Caring, Giving, Changing at Miracle Mile Shops
April
Miracle Mile Shops is collecting fountain donations for Easter Seals Nevada in honor of National Autism Awareness Month. As part of the center?s Caring, Giving, Changing community campaign, all change tossed in the blue fountain and the indoor rainstorm will advance the organization?s mission of providing exceptional services for people with disabilities and special needs and their families.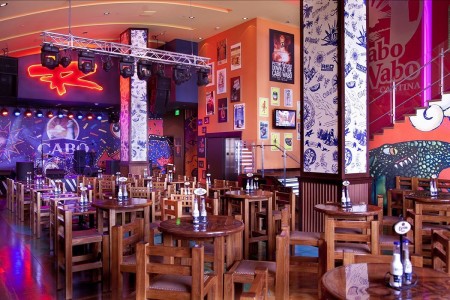 Alex and Ani
April
All month, Alex and Ani features its Infinite Mom Wrap ($48) and Mom Color Infusion Swarovski Set ($78) to celebrate Mother?s Day. Additionally, the store offers a Crystal Infusion Custom Pendant Expandable Necklace ($98) and Big Dipper and Little Dipper Set of Two ($48).
BCBGeneration
April 7 ? 10
Guests may take 40 percent off select festival styles.
April 20 ? 30
To prepare shoppers for spring, BCBGeneration features 40 percent off all dresses.
Ben & Jerry?s Ice Cream
April 12; 11 a.m. to 8 p.m.
Ben & Jerry?s Ice Cream thanks guests with complimentary ice cream cones on its annual Free Cone Day. Donations collected on that day will benefit Candlelighters Childhood Cancer Foundation of Nevada.
Blondies Sports Bar & Grill
April 23; 7 p.m.
Blondies Sports Bar & Grill hosts a viewing party for UFC 197: Cormier vs. Jones.
Brighton Collectibles
April
Throughout the month, Brighton features the Anju Beaded Soft Bucket purse ($430), Britta Saddle bag ($310), Farafalla Double Frame Locket necklace ($56), and Mother necklace ($42).
April 1 ? 10
With a single same-day Brighton purchase of $100 or more, guests will receive a complimentary Brighton umbrella.
Buffalo Wild Wings
April 23
With the purchase of a $50 gift card, guests may reserve one seat during the sports bar?s UFC 197: Cormier vs. Jones viewing party. The gift cards may be used during the fight.
Cabo Wabo Cantina
April 7
Cabo Wabo Cantina celebrates National Beer Day with a buy one, get one special on the cantina?s signature Red Head draft beer, priced at $8. Additionally, guests may enjoy an extensive selection of draft, domestic and imported beer available on Cabo Wabo?s Strip-side patio.
Cheeseburger Las Vegas
April
To celebrate Spring Break, guests may enjoy buckets of domestic beer for $20 and an exclusive beer on tap, 808 Pale Ale. Parties of 25 or more may enjoy the large party room free-of-charge.
April 2 ? 4
Cheeseburger Las Vegas hosts March Mayhem viewing parties on its 12 flat-screen and three large-screen TVs with no cover charge.
David Saxe Productions
April
Throughout the month, guests may book a Stripper 101 morning private class for $100.
April 18
Guests may receive $20 off any general admission ticket to VEGAS! The Show, V ? The Ultimate Variety Show or Zombie Burlesque.
April 22
To celebrate Earth Day, guests may take $10 off any general admission ticket to VEGAS! The Show, V ? The Ultimate Variety Show or Zombie Burlesque.
French Connection
April
Shoppers may enjoy up 80 percent off select items.
H&M
April
H&M launches its Coachella line, featuring festival-inspired men?s and women?s merchandise.
La Salsa Cantina
April
Guests may enjoy $4 bottles of Corona and Corona Light. Additionally, the cantina features Exotico Tequila as its tequila of the month.
Pampas Churrascaria Brazilian Grille
April
All month, Pampas Churrascaria Brazilian Grille features $20 to $30 one-hour all-you-can-drink packages with a variety of cocktails and well drinks. During lunch, guests may enjoy unlimited draft beer for $15 as well as unlimited bloody marys and mimosas for $10. Lunch is from 11:30 a.m. to 4 p.m. daily.
Pandora
April
Pandora features a variety of jewelry including Poetic Droplet ring ($425), Shimmering Bouquet ring ($65), Our Special Day charms ($50), Shimmering Droplets Charms ($70), Floral Daisy Lace necklace ($80) and the Smooth .925 Sterling Silver Clasp bracelet ($65).
Swarovski
April 1 ? 7
Guests will receive a sparkling Chanton with any purchase of $150 or more from its Crystal Living collection.
Tervis
April 14 ? 15
Guests may take 15 percent off any drinkware purchase.
Urban Outfitters
April 9; 3 to 7 p.m.
Urban Outfitters celebrates Earth Day with live music from Echo Stains and Cherreys, complimentary non-alcoholic beverages from Whole Foods Market and an art sale hosted by University of Nevada, Las Vegas? students with proceeds benefiting Aid for AIDS of Nevada?s Annual AIDS Walk.
Related Links:

Stripper 101 Tickets

Zombie Burlesque Tickets

VEGAS! THE SHOW Tickets

V ? The Ultimate Variety Show Tickets
Book Now: Planet Hollywood Resort & Casino
Cabo Wabo Cantina
Cheeseburger Las Vegas
Pampas Churrascaria Brazilian Grille
Blondies Sports Bar & Grill
Miracle Mile Shops