Thursday, March 31, Las Vegas? one-of-a-kind production, ABSINTHE celebrated its fifth anniversary at Caesars Palace with a wet, wild and psychedelic celebration. In the five years since ABSINTHE hoisted its Spiegeltent on the Roman Plaza, it has delighted over 1 million guests at more than 2,500 shows, earning the record for most performances at Caesars Palace. And in true ABSINTHE style, last night?s milestone performance left nothing to the imagination.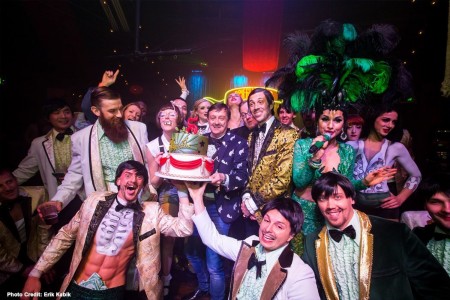 Kicking off the evening?s festivities with a splash, Caesars Palace President Gary Selesner, Spiegelworld Impresario Ross Mollison and The Gazillionaire welcomed the crowd at the Caesars Palace fountains with a celebratory champagne toast. The cheering audience was then met with a surprise, one-time-only performance by ABSINTHE?s newest addition to the show, celebrated Bath Boy David O?Mer, who performed his sizzling aerial act inside of Caesars Palace?s iconic fountains.
?We are enormously proud that this show is here,? said Caesars Palace President, Gary Selesner. ?We hope it will be here for many, many years to come.?
Following a full standing ovation at the conclusion of the anniversary performance of ABSINTHE, the Spiegeltent was overrun by dozens of Gazillionaire look-alikes and guests were provided with ?Gaz masks,? bow ties, gold teeth and more. Far exceeding The Gazillionaire?s promised $319 bar tab, partygoers guzzled champagne and enjoyed shots from a life-size Gazillionaire ice sculpture as they danced along to music performed by a live band. Pop up performances from special guest artists included dancers from JUBILEE, Jordan Contortion, Kalani Kokonuts and others.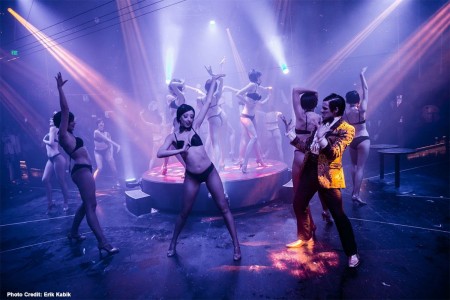 Ending on a ?high? note, Mollison and The Gazillionaire took the stage to share a few words as the raucous cast was presented with a commemorative anniversary cake designed by Restaurant Guy Savoy. The party continued late into the night at OMNIA Nightclub.
With more than 2,500 lap dances performed and 1 million guests entertained, ABSINTHE continues to delight audiences nightly with its jaw-dropping performances and hilarity. Additionally, the cast of ABSINTHE has entertained a lineup of celebrity guests such as Neil Patrick Harris, Rebel Wilson, James Franco, DJ Steve Aoki, Olivia Newton-John, P!nk, Channing Tatum, Idina Menzel, Melissa McCarthy, Vince Young, Kaley Cuoco, Ice-T and Coco, David Copperfield, Tony Hawk and others. ABSINTHE has received critical acclaim for being ?sexy, funny, unabashedly raunchy? by the Chicago Sun-Times and voted ?Best Show? by Las Vegas Weekly, Vegas SEVEN and the Las Vegas Review-Journal.
ABSINTHE show times are Wednesday-Sunday at 8 p.m. and 10 p.m. The schedule is subject to change without notice.
Related Links: