Season 10 winner of America?s Got Talent, Paul Zerdin was spotted attending the hit show ABSINTHE at Caesars Palace on Wednesday, March 30. The comedy ventriloquist, in Las Vegas to prepare for his recently announced resident production at Planet Hollywood Resort & Casino, PAUL ZERDIN: MOUTHING OFF, was spotted at the 8 p.m. performance taking in the hilarious antics and outlandish acts. Zerdin met with The Gazillionaire, his raucous assistant Joy Jenkins and the ?Green Fairy? Melody Sweets following the show for a photo and to express his enjoyment of the performance.

Save $20 on Absinthe Las Vegas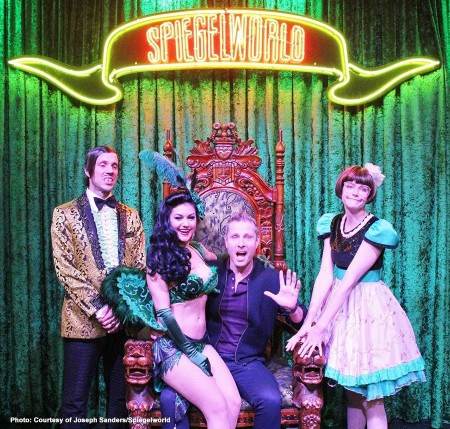 Save $20 on Absinthe Las Vegas
ABOUT ABSINTHE: Named ?Best Show? on the Strip by the Vegas SEVEN, Las Vegas Review-Journal and the Las Vegas Weekly and hailed by Chicago Sun-Times as ?sexy, funny, unabashedly raunchy," ABSINTHE at Caesars Palace is an acro-cabaret variety show featuring outlandish and wild acts in a theatre-in-the-round presentation. Audiences are treated to a night of imagination and excess as the cast of eccentrics perform amazing feats of strength, balance, danger and unfathomable flexibility within mere feet of the audience surrounding the intimate stage. ABSINTHE show times are Wednesday-Sunday at 8 p.m. and 10 p.m., dark on Monday and Tuesday. The schedule is subject to change without notice.
Related Links:

Paul Zerdin: Mouthing Off Las Vegas