The LINQ Promenade ? Caesars Entertainment?s open-air shopping, dining and entertainment district situated in the center of the Vegas Strip, is proud to announce the latest restaurants and stores to open in 2016. The brand new LINQ Promenade restaurants include In-N-Out Burger opening its first location on the Strip. Furthermore, seven other diverse, appealing restaurants and retailers are going to be opening: Gordon Ramsay Fish & Chips, Canter?s Deli, Virgil?s Real BBQ, Amorino, Basin White, Purple Zebra and C&E Studio Tony Vegas.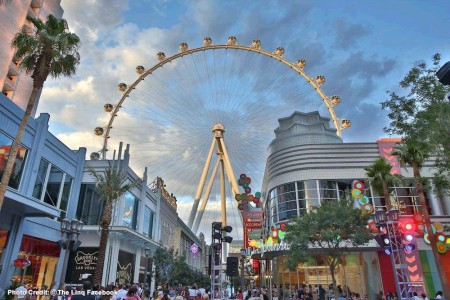 In-N-Out Burger
Open for lunch, dinner and late night dining, In-N-Out Burger will feature its deliciously fresh burgers, hand-cut french fries and its signature shakes. Slated to open this fall, the burger chain will be situated near the fountain stage, between Sprinkles and Flour & Barley.
?The opening of In-N-Out Burger is the perfect addition to the growing array of restaurants and eateries creating a one-of-a-kind experience at The LINQ Promenade for the tens of thousands of guests who visit the property each day,? said Bob Morse, president of hospitality at Caesars Entertainment. ?This iconic brand offers a ?Vegas must-do? dining experience that won?t be found anywhere else on The Strip.?
The LINQ Promenade was the first open-air space in Las Vegas that offered a shopping, dining and entertainment district to guests with many first to the market outlets. Caesars Entertainment can also reveal new details for previously announced restaurants and retail stores opening later this year.
Gordon Ramsay Fish & Chips
Gordon Ramsay Fish & Chips is expected to welcome its first diners in late summer. The takeaway-style British restaurant will feature Ramsay?s signature fish and chips, bangers and mash, chicken planks and hearty seafood chowder. Located near the Strip entrance to The LINQ Promenade, guests will be able to view the chefs in action as they prepare the made to order dishes.
Canter?s Deli
Canter?s Deli is expected to open in late summer and will be located near the High Roller entrance, across from Yard House. The Jewish-style delicatessen will serve fresh, homemade specialties such as hot pastrami, corned beef, roast turkey and authentic matzo ball soup and its world-famous chocolate chip racetrack cake. The family run business will be open 24-hours and offer a full service bar.
Virgil?s Real Barbecue
Alicart Restaurant Group, the team behind Carmine?s in The Forum Shops at Caesars, will expand the company?s presence in Las Vegas with the addition of Virgil?s Real Barbecue, with an anticipated opening in late summer. Boasting locations in New York City and at Atlantis in the Bahamas, Virgil?s will expand west, featuring world-famous BBQ tastes of Tennessee, Kentucky, Texas, the Carolina?s and Missouri. Virgil?s Real Barbecue will also feature live music entertainment every night.
Basin White
Visitors can be pampered at home with decadent soaps and lotions from Basin White, a signature type of luxury bath and body items. Opening close to the Strip entrance to the LINQ Promenade, the shop will offer customers a multitude of custom, chemical-free recipes, and exclusive, high-end fragrances shoppers won?t find elsewhere.
Amorino
Amorino, considered the best European gelato brand, is expected to open its flagship U.S. location at The LINQ Promenade in May. The store will boast 24 gelato options as well as new and delicious seasonal flavors, available in Amorino?s flower-shaped cone. Guests can also pick from a selection of breakfast pastries, gelato-filled macarons and artisanal chocolates.
C&E Studio Tony Vegas
C&E Studio Tony Vegas is ?Where the Magic of Art Begins.? It?s expected to open in April next to Brooklyn Bowl; the studio will offer pop, urban and trendy art pieces, including spray paints, 3D prints, artistic designed garments and other unique one-of-a-kind Las Vegas art souvenir pieces. Two resident artists will perform live art creation in front of the store space, offering a dynamic, entertaining and fun show experience for all the visitors to The LINQ Promenade.
Purple Zebra
A self-serve daiquiri bar, The Purple Zebra plans to reopen at The LINQ Promenade in early summer. Guests can mix and match daiquiri flavors, candy and toppings to create their one-of-a-kind drink. Purple Zebra offers 30 different daiquiri flavors and include both alcoholic and nonalcoholic drinks.
Related Links: