Honoring the culture, lifestyle and art of the samurai warrior through centuries of Japanese history, Bellagio Gallery of Fine Art (BGFA) will unveil its new exhibit, Samurai: Armor from the Ann and Gabriel Barbier-Mueller Collection, on November 3.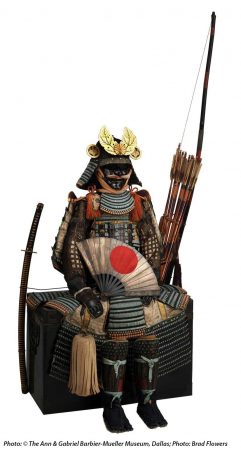 The exhibit includes more than 50 pieces of samurai armor from the Ann and Gabriel Barbier-Mueller collection, and will feature full suits of armor, helmets, weapons, horse armor, masks and more. The exquisitely crafted pieces represent the evolution of the samurai warrior's appearance and equipment spanning 600 years from the 14th-19th centuries. During this time period, Japanese society recognized the advancement of the samurai as a great honor: from archers and swordsmen to an elite class of warriors respected for their military skills, refinement and intellect.
Samurai: Armor from the Ann and Gabriel Barbier-Mueller Collection will feature objects that were used both for combat and ceremonial purposes. The pieces convey the complete story of the samurai, a part of the intellectual Japanese elite who not only fought in battle, but also practiced poetry and calligraphy.
"With each of our exhibits, we look to curate compelling collections that combine elements of history and culture, allowing guests to not only view stunning art pieces, but also learn about the context and significance," said Tarissa Tiberti, executive director of art and culture for MGM Resorts International. "The upcoming exhibit of Samurai: Armor from the Ann and Gabriel Barbier-Mueller Collection will embrace a vibrant Japanese art form so rich in tradition, history and creativity, unlike anything we've debuted before at Bellagio Gallery of Fine Art."
This exhibit encompasses the entirety of samurai history to allow the visitor to see the evolution of armor as warfare progresses from bows and arrows to swords and guns. Intricate pieces such as lacquered metal helmets adorned with crests, and delicate, detailed armor capable of protecting the samurai in brutal combat, will be on display. Inside the gallery, visitors will experience the masterful craftsmanship of each object and the historical context of the samurai as they walk through this historical epoch in Japanese culture.
"It is the combination of art and armor, the boundless creativity of the objects' forms, and the aesthetics used by these fierce and cultivated warriors that drew us in to assemble our collection," said Gabriel Barbier-Mueller.
BGFA's current exhibition, I Am The Greatest: Muhammad Ali, will close September 30 to make way for Samurai: Armor from the Ann and Gabriel Barbier-Mueller Collection. The new exhibit will be on view November 3, 2017 through April 29, 2018.
BGFA is open daily 10 a.m. – 6:30 p.m. Last admissions are sold 30 minutes prior to closing. Guests may enjoy complimentary daily docent tours at 2 p.m., and private docent tours are available at an additional cost.
Related Links: