Beloved fast-casual concept Burger Lounge is heading to the Vegas culinary community with the debut of their first-ever Nevada location at ARIA Resort & Casino this March. The So Cal burger chain takes the classic hamburger and improves it with clean elements and tastes that pack a punch.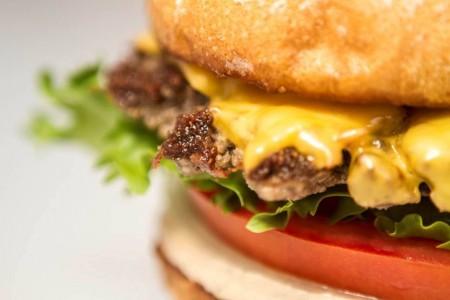 ?Burger Lounge is a high quality fast-casual concept that adds a fun culinary experience to our resort's dining portfolio,? said ARIA Vice President of Food and Beverage Josef Wagner. ?We appreciate the restaurant?s focus on sustainability and their dedication to creating a stronger food movement through the use of healthy ingredients and produce. We?re proud to introduce the brand to our clientele.?
At the heart of the Burger Lounge brand is the belief a burger shouldn't only taste great, but that the guest should feel better about eating it. Knowing that, hamburgers begin with fresh American grass-fed, grass-finished beef, perfectly seared and offered on the toasted hand crafted bun. With the help of crisp lettuce, tomato, organic aged whitened cheddar and house-made 1000 Island dressing, the eatery provides one seriously good hamburger.
But, lest you believe it?s by pointing out taste, the Burger Lounge team has some serious sustainability cred too. The chain?s core business design – to begin with fresh, non-GMO elements and also to build mutually advantageous associations with ethical providers – has resonated through the brand from the first day.
Burger Lounge Co-Founder J. Dean Loring said, ?Establishing meaningful partnerships with sustainable ranchers and farmers has been a part of our model from the beginning. Not only does our food taste better, but creating demand for those suppliers ultimately helps change the American food model for the better.?
With roots in La Jolla, California, Burger Lounge is continuing to grow right into a cool and beloved West Coast brand, joining up with ranches and farms over the U.S. to source the highest quality meat, cheeses and veggies. The grass-given beef originates from Grass-Run Farms, a collaboration of family farms that raise cattle without anti-biotics, hormones or growth promotants.
Additionally to grass-fed beef, the hamburger line-up features a free-range turkey burger created using fresh basil, a healthy organic quinoa veggie burger along with a long line-caught albacore burger. Never frozen, the patties are capped with creamy organic cheese, hand-chopped veggies and a number of house-made dressings. The signature Lounge Bun is baked daily and shipped by local bakeries. For that gluten-free guest, fluffy gluten-free buns along with a secret food selection referred to as Paleo Burger are available upon request.
Burger Lounge will replace The Roasted Bean near ARIA?s Poker Room.
Related Links: