This spring, Vegas site visitors and locals are going to be introduced to Beerhaus, a remix of the American beer hall, tapping a varied beer program for hop heads and casual consumers alike. Situated in The Park – MGM Resorts? new dining and entertainment district opening April 4 – the beer garden will celebrate an indie vibe and boast flows from Las Vegas-local breweries like Joseph James alongside beloved domestic crafts and worldwide all stars.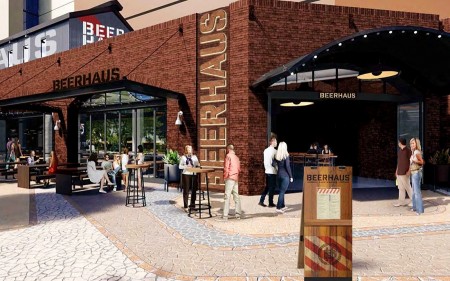 Beerhaus is going to be ideally situated close to the 20,000 seat world-class T-Mobile Arena, playing the function of both pre- and post-event headquarters. Its location, steps from New York-New York and Monte Carlo, allows for a killer outside patio scene in the center of all of the action. Uncovered brick along with a roller-coaster-shed fa?ade put revelers within the proper mindset as they transition inside towards the industrial-chic setting.
No beer hall is finished without a menu of mouthwatering bites to soak up the suds. Libations are going to be accompanied by artisanal eats which are hormone-free and regionally acquired with the bonus of hand-held ease for optimum efficiency. Bar food includes savory roasted sausages and rotisserie sandwiches with premium meat like porchetta, beef brisket and free-range chicken. Overhead, a soundtrack similar to indie records and throwback hip-hop serves as the ideal playlist for complete beer nirvana.
Beauty in the Eye of the Beer-Holder
Whether an experienced enthusiast or simply beer-curious, you will see a rotating choice of refreshing options to please the palate. Famous Trappist ales made by monks stand with the familiar Pabst Blue Ribbon, giving all tastebuds the same chance at satisfaction at this new sudsy place.
? Draft: The selection includes lagers such as The Bruery Humulus Lager from Placentia, CA, and Joseph James? American Light Lager. IPAs including Ballast Point Grapefruit Sculpin from San Diego and the rich Left Hand Nitro Milk Stout from Longmont, CO will make the draft menu an instant favorite on The Strip.
? Bottles & Cans: Off draft, choices range from the gluten-free Green?s Dry Hopped imported from the UK and the Ayinger Celebrator from Germany, to ales such as Hitachino Nest White Ale from Japan and Belgium?s Saison DuPont.
? Other Taps: For the vinos, Beerhaus offers tap-drawn alternatives to good ol? grog, including a selection of unique keg wines. The spirit savvy also can get in on the draft goodness through a revolving list of refreshing selections such as small-batched Moscow Mules and Cosmopolitans on tap.
It?s All Fun and Games
Beerhaus will be in the business of brewing good times. Guests are invited to grab a cold one and make new friends over bar games such as Connect Four, which are stationed at every table. Visitors also can engage in friendly competition with beer hall classics such as foosball, shuffle board and ping pong. There?s also corn hole on the outdoor patio to showcase beer-enhanced skills day and night.
Related Links:

T-Mobile Arena Tickets
Book Now: New York-New York Hotel & Casino
Book Now: Monte Carlo Hotel & Casino