WHO: Dave Oancea, one of the most aggressive and successful future sports bettors in the gambling world, and World Series contenders the Kansas City Royals.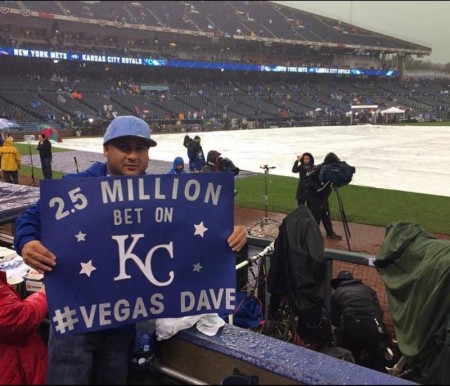 WHAT: "Vegas Dave" won a historic $2.5M payout – the biggest future wager within the history of sports betting when the Kansas City Royals won the 2015 World Series.
He placed his wager in week one when the odds were 30 to 1 and wagered it all the way down to 8-1 (the Royals haven't won a World Series in 3 decades). Declining several possibilities to cash out and make a guaranteed $750,000, Vegas Dave demonstrated his belief in the team allowing the wager to ride.
Vegas Dave's passionate, no-nonsense approach, together with actual posts of his tickets on his website validate his credibility among the most effective sports gamblers of his time. His winnings have motivated The Westgate casino to alter their policy on accepting his bets, that will alter the way casinos do sports betting (no more accepting such extreme odds or permitting repeat bets). He intends to give back to his community by donating turkeys and toys to underprivileged Vegas citizens throughout the holidays.
About Dave Oancea
Dave Oancea, also known as "Vegas Dave" began his gambling career in Vegas fifteen years ago after moving from Honolulu, Hawaii in search of "making it big" in Las Vegas. After many years of weathering major wins, devastating losses and even a two-month stint in Gamblers Anonymous, Dave eventually learned the discipline required to stay effective as a professional gambler. Today, Dave is regarded as among the elite sports handicappers of the era. He regularly wagers high stakes bets from $100,000-200,000 each week on sporting occasions. Also, he consults for roughly 2,500 people on their own bets. With the financial freedom he's accomplished through his gambling career, Dave is really living his dream in the adopted home town of Vegas.
Related Links: