Brothers David Morton and Michael Morton will open their much-anticipated new restaurant, MB Steak, the "MB" stands for "My Brothers," at Hard Rock Hotel & Casino Las Vegas in mid-May. Following in the footsteps of their father, the iconic restaurateur Arnie Morton, David and Michael aim to create the next great American steakhouse.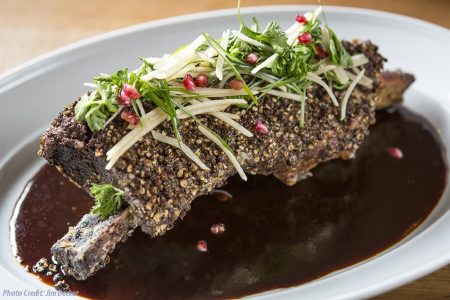 The heart of the menu, developed by Executive Chef Patrick Munster, is steak. Procured from select Midwestern ranchers, the steaks are simply seasoned with MB Steak's signature spice blend. Various cuts include an 18-ounce dry-aged bone-in New York strip; and a 32-ounce bone-in pepper crusted short rib. Wagyu selections include a 10-ounce Miyazaki Japanese New York strip steak and a 10-ounce Imperial New York strip steak.
The steaks are complemented by the freshest seafood and shellfish, expertly sourced, as well as creative chef-driven preparations. Highlights include the American caviar sliders made with blinis and chive crème fraiche; and a trio of sashimi shots served with hamachi, tuna and salmon. Appetizer selections include charred Spanish octopus served with broccolini, stewed tomatoes and port wine; and surf & turf tartare, prepared with filet mignon and Ahi tuna, complemented by pommery mustard, smoked salt, egg and shallots.
Main course selections include pan-roasted Alaskan halibut served with tomato broth and olive relish; Colorado lamb chops, served with toasted barley, escarole and currant lamb jus; and shrimp risotto made with English peas, roasted onion and mascarpone cheese.
MB Steak's diverse wine list has been expertly curated, and will be complemented by an extensive selection of premium spirits and craft cocktails.
Occupying 7,800 square feet on two levels, an entry passage reveals the main dining room and bar on the first floor. Hidden behind the main bar is a "private bar room," offering an exclusive, social setting for mingling. LED lights give a soft glow to a staircase leading to the second floor, which houses an intimate 60-person private dining room and garden bar and lounge. At 25 feet above the upstairs island bar is a towering skylight adorned with a mix of succulents and moss pouring in from above. The room is framed with operable windows to welcome fresh breezes and showcase views of the Las Vegas Strip.
The restaurant will be open starting at 5 p.m., daily, and will offer a private valet.
Related Links: