Shark Reef Aquarium at Mandalay Bay has teamed up with National Geographic photographer Joel Sartore to host the National Geographic Photo Ark exhibition in an effort to enlighten guests to the importance of protecting the world's wildlife and their habitats. The photo exhibition runs through September 6.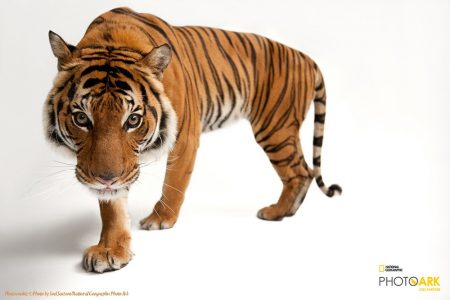 The National Geographic Photo Ark is a multiyear effort led by Sartore to document every species in the world's zoos and wildlife sanctuaries and inspire people to save these animals before it's too late. Sartore has visited 40 countries in his quest to create a photo archive of global biodiversity that currently features the portraits of an estimated 12,000 species of birds, fish, mammals, reptiles, amphibians and invertebrates. Once completed, the Photo Ark will serve as an important record of each animal's existence and a powerful testament to the importance of saving them.
The subjects in each of Sartore's photos are treated with the same respect and admiration, no matter their size, to create a captivating image that visually connects with the viewer. "It's the eye contact that moves people," said Sartore. "It engages their feelings and a desire to help."
The Photo Ark exhibition at Mandalay Bay can be found on public view along the wall adjacent to Shark Reef and inside the aquarium itself for guests visiting the attraction. Some of the animals featured in the photos include a Malayan Tiger, Okapi, Woodland Caribou, Tapir and Javan Rhinoceros Hornbill.
A documentary series on Sartore's work, RARE – Creatures of the Photo Ark, will premiere on PBS in July. Learn more at NatGeoPhotoArk.org and join the conversation on social media with #SaveTogether.
Related Links: