Holiday at The Park kicked off the season with its first-ever tree lighting ceremony on Monday, November 21. Emcee Chet Buchanan was joined by special guests Scooter Christensen of the Harlem Globetrotters; MGM Resorts' Chairman and CEO Jim Murren; and several of MGM Resorts' own team members, who also serve our country with the Army National Guard's 17th Sustainment Brigade and returned home for the holidays from a 10-month deployment. The group led the countdown and then did the honors of lighting the 60-foot Silver Tip Fir tree. The tree is adorned with 3,000 ornaments and 13,000 lights. Las Vegas Academy carolers began the ceremony with classic holiday tunes as guests enjoyed memorable appearances by Santa Claus and the Coca-Cola Bear.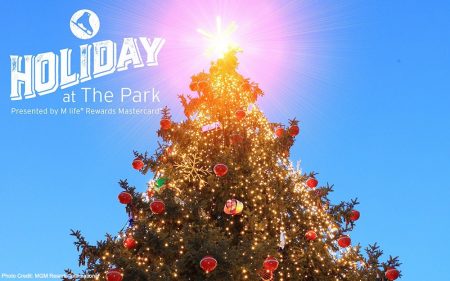 The Park has been transformed this holiday season into a winter wonderland complete with white twinkling lights, branches sparkling with icicles, crystal blooms, and two 16-foot-tall Ornament Tunnels, on display now through January 15, 2017.
Steps away is an ice rink at Toshiba Plaza, outside T-Mobile Arena. Guests are invited to spend the day at The Park ice skating with family and friends, as well as enjoying hot beverages and holiday culinary treats available throughout the neighborhood.
Related Links: