Hard Rock Hotel & Casino Las Vegas unveils the first phase of a $13 million refresh inside its Casino Tower. The property has renovated 575 standard rooms and a second phase of the Casino Tower remodel will upgrade the remaining 65 luxury suites. Upon completion, 640 rooms and suites will be renovated to provide guests with contemporary accommodations and unrivaled amenities.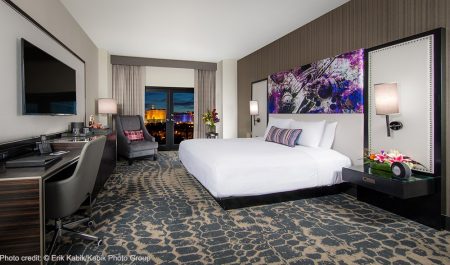 "Hard Rock Hotel's impressive remodel of its Casino Tower is a demonstration of how we stay in the forefront of the Las Vegas market," said Jody Lake, chief operating officer at Hard Rock Hotel & Casino. "For more than 21 years the property has offered guests high-energy entertainment, innovative gaming and a revolutionary nightlife, daylife and music scene. By upgrading the property's original tower, we're ensuring our guests are provided with the best accommodations possible."
The Casino Tower's remodel includes sleek new furnishings, quartz countertops, spa-like oversized bathrooms with elegant marble flooring, lighted makeup mirrors, new artwork adorning the walls and convenient USB ports throughout each room. The tower features clean, modern lines and sumptuous bedding in a palate of warm grays and whites, with subtle plum accents on throw pillows for sexy sophistication. Amenities include a fully-stocked mini bar, 55-inch high-definition TVs and exclusive bath essentials. Each room is also equipped with French doors that open to breathtaking pool or city views.
Hard Rock Hotel has 1,500 fully modern, state-of-the-art rooms with all of the services and amenities of the larger casino hotels, while still preserving an intimate and exclusive environment with unique advantages such as its world-class pools and comfortable boutique feel. The newly renovated tower accompanies the property's 15-story HRH All-Suite Tower with 359 suites, eight spa villas and seven penthouse suites; and its 17-story Paradise Tower with 490 rooms and suites.
Related Links:
Book Now: Hard Rock Hotel & Casino
Save