Fifty years after the inaugural flight of the Star Trek® Enterprise, George Takei went weightless in a celebration of the beloved show's anniversary. Weightless flight provider Zero Gravity Corporation (ZERO-G®) joined Roddenberry Adventures to offer George a special opportunity to boldly go where no other Star Trek® crew member had gone before: floating in zero gravity.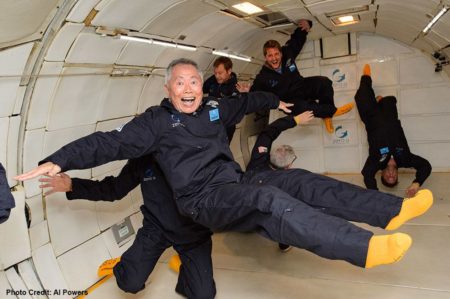 Fans got to meet and take pictures with the original Hikaru Sulu before taking to the sky. During each period of weightlessness Takei floated effortlessly through the plane, performing flips with ease and proudly flashing the Vulcan salute with fellow passengers. Takei said the experience is something he'd love to do again and is even planning on using one of the flight photos in his Christmas card.
"The flight was an out-of-this-world adventure for everyone involved," said Terese Brewster, President and COO of ZERO-G. "Flyers got to interact with George, chat about Star Trek and have a sci-fi adventure of their own. We are so happy we could celebrate the anniversary with George and his fans."
ZERO-G is the first and only FAA-approved provider of commercial weightless airline flights for the public. It will continue its schedule of weightless flights across the country, with upcoming stops in Los Angeles and San Francisco before returning again to Las Vegas. The entire schedule can be found on their website here.
About ZERO-G
Zero Gravity Corporation is a privately held space entertainment and tourism company whose mission is to make the excitement and adventure of space accessible to the public. ZERO-G is the first and only FAA-approved provider of weightless flight in the U.S. for the general public; entertainment and film industries; corporate and incentive markets; non-profit research and education sectors; and the government. ZERO-G's attention to detail, excellent service and quality of experience combined with its exciting history has set the foundation for the most exhilarating adventure-based tourism.
Star Trek and all related marks, logos and characters are solely owned by CBS Studios Inc. The ZERO-G Experience is not endorsed by, sponsored by, nor affiliated with CBS Studios Inc.