Shawn Crahan and Sid Wilson from the band Slipknot experienced Richard Petty Driving Experience's American Muscle Car Challenge at the Las Vegas Motor Speedway on Sunday, Aug. 21. In Las Vegas to perform with Marilyn Manson at T-Mobile Arena, Crahan and Wilson drove iconic muscle cars including a Chevrolet Camaro ZL1, Shelby Ford Mustang and Dodge Challenger Hellcat around the Speedway at speeds up to 140 mph.

Richard Petty Driving Experience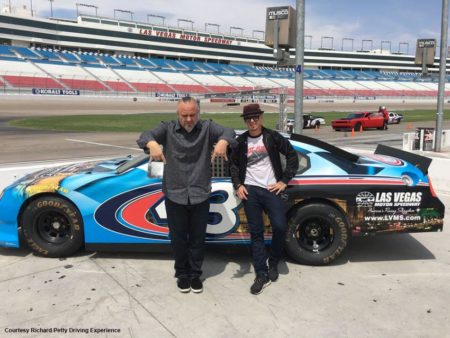 Richard Petty Driving Experience
About Richard Petty Driving Experience (RPDE):
Owned and operated by Petty Holdings, LLC, RPDE is the worldwide leader in NASCAR race car drive- and ride- entertainment, available at speedways across the U.S. It has base locations in Las Vegas, Concord NC and Kansas City. RPDE also produces and facilitates auto manufacturer drive and ride programs, safe driving programs, mobile marketing events and motorsports-related production services for the television and film industry.