Luck was in abundance on Sunday, July 10 as not one but two millionaires were made with Caesars Entertainment's $1 Million Three Card Poker 6 Card Bonus? table game.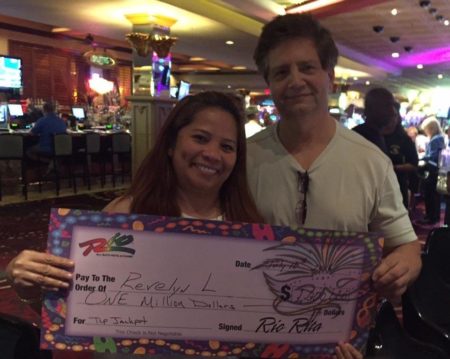 Rooms at Rio Hotel starting at $30/night in August!
The first winner, Revelyn Limjuco of Santa Cruz, CA, hit the bonus at Rio All-Suite Hotel & Casino. Shortly after, the second winner hit the bonus at Caesars Palace after just 30 minutes of play.
The 6 Card Bonus? side bet on Three Card Poker gives players the chance to win $1 Million with a total wager as small as $15 if they hit a super royal flush in diamonds: 9, 10, J, Q, K, A. Additionally, $100,000 payouts are available for the super royal in hearts, clubs or spades.
Sunday's two winners make a total of 15 $1 million winners of this bet since 2011.
Players enjoy Three Card Poker because of its simplicity, low table minimums and relatively high payouts; the 6 Card Bonus? side bet gives guests the opportunity to turn a bad hand into a winning hand, or a good hand into an even better one. With more than 1,500 tables worldwide Three Card Poker, licensed by Shuffle Master, Inc., is the most popular specialty game of all time. It is a fast-paced game that players can quickly learn and enjoy. The game offers the first table-game payout of this size without an escalating progressive jackpot in a traditional brick and mortar casino. For years, slot players have enjoyed the opportunity to win mega-jackpots, and now, Caesars Entertainment is offering this same opportunity to table game players where any player can win, on any day, at any time, in just one hand.

Caesars Palace Golden Anniversary Packages
Related Links:
Book Now: Rooms at Rio Hotel starting at $30/night in August
Book Now: Caesars Palace Golden Anniversary Packages Now!