Double Barrel Roadhouse? at Monte Carlo Resort and Casino has introduced an updated menu with an array of all-American classics. Offering huge flavors with an unmistakable Southern twist, the rowdy roadhouse uncovers fresh and original items created by Chef David Mangual, guaranteed to satisfy any craving, and even the largest appetites.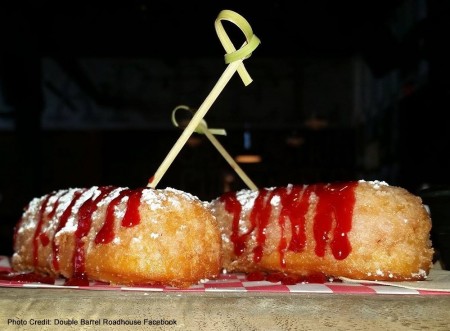 New menu highlights include:
? Burnt Ends made with peach wood smoked brisket ends, slathered in tangy BBQ sauce and served with cornbread for $14.
? BBQ Brisket Loaded Potato Skins made with crispy fried potato skins and topped with BBQ brisket, smoked pulled pork, pico de gallo, cilantro sour cream, cheddar cheese, fresh scallions and cilantro for $15.
? Hot Link Plate prepared with grilled hot links using a mixture of peach wood, apple wood as well as mesquite charcoal and slathered with BBQ sauce for $17.
? Deep Fried Twinkies made with raspberry tempura batter, powdered sugar and chocolate sauce for $7.
? Banana Pudding prepared with homemade banana pudding, vanilla sweetened whipped cream and topped with candy torched bananas for $7.
Guests can still enjoy Double Barrel?s classic menu items such as the BBQ Smoked St. Louis Ribs, Pulled Pork Sammie and Double Barrel Burger as well as a full menu of signature cocktails including the Roadhouse Sidecar, Down Home Punch and the Smoking Gun in addition to the new menu items.
Double Barrel is open Monday through Saturday from 11:30 a.m. to 11 p.m. and Sunday from 10:30 a.m. to 11 p.m.
Related Links:
Book Now: Monte Carlo Hotel & Casino
Double Barrel Roadhouse? American Restaurant