Center Bar, a high-energy casino bar and Parlor Lounge, a comfortable, hand made cocktail retreat are now open in the Mirage Hotel & Casino. Centrally situated in the middle of the casino floor, the venues feature cocktail lists by accomplished Chicago mixologist Liz Pierce, who has been recently named ?Best New Mixologist? by FOOD & WINE magazine. Surprising elements, unusual flavor combinations along with a rare assortment of boutique spirits highlight the menus at both venues.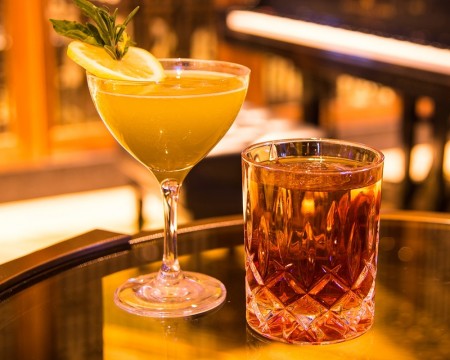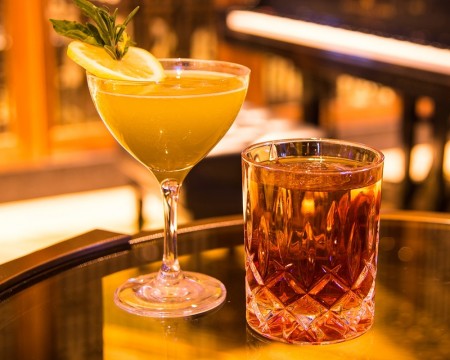 On draught at both venues is a proprietary saison pale ale from Las Vegas? CraftHaus Brewery that pays homage towards the Mirage?s tropical rainforest theme. Fresh mangos along with a generous quantity of Australian summer hops make this brew light, fruity and refreshing.
Center Bar
Situated steps from the Mirage?s legendary atrium, Center Bar?s title informs you all that you need know to be able to find it. Inspired by the 'golden hour', right before day turns to evening, Center Bar is full of warm amber hues and rich oranges with hints of blue. The open atmosphere places visitors in the middle of the action on the casino floor – an excellent place for people watching from day to evening.
? Mirage Spritz: a true crowd pleaser, this sparkling libation made with Grey Goose vodka, Giffard Pamplemousse Liqueur, Chareau Aloe Vera Liqueur, fresh lemon, pomegranate juice and Prosecco has a touch of sweetness and just the right amount of fizz.
? Baller Old Fashioned: a modern take on the classic made with Angel?s Envy boutique bourbon, Tippleman?s Barrel-smoked Maple Cordial and Bittercube Cherry Bark Vanilla Bitters.
? Jack Rose: made with Laird?s Bonded Apple Brandy, one of the first spirits ever produced in the United States, house-made pomegranate molasses and fresh lime. Modern, yet approachable, The Armed Forces cocktail is created with Kappa Pisco, Leblon Cachaca, Small Hands Orgeat Almond Syrup, sweet strawberries and fresh lemon.
? Beginning Wednesday, Nov. 24, Typhoon, a tropical specialty cocktail served in a limited edition tiki mug designed specifically for The Mirage will be available for $35.
Parlor Lounge
Parlor Lounge offers guests an intimate setting to enjoy cocktails and conversation complete with sophisticated sounds from a classic Steinway Grand Piano. Dark, paneled woods, burnished bronze, and accents of emerald come together to create a space that is classic and inviting. Pierce?s menu of inventive cocktails combines strong, bold flavors that create unexpected harmony finished with appealing edible garnishes. Highlights include:
? Wise Guys are Rye?s Guys: a rich cocktail with herbal notes made with Woody Creek Rye, Cocchi Barolo Chinato fortified wine, Nux Alpina walnut liqueur, cold brew coffee, Bittercube orange bitters and garnished with a chocolate honey pop.
? The Layup: a clean, crisp drink prepared with Aylesbury Duck vodka infused with green bell pepper, Chareau aloe vera liqueur, Skinos Mastiha ? a Mediterranean spirit with notes of cucumber, pine, anise, fresh herbs and garnished with a fresh cucumber and Peychaud?s bitters.
? The Skara Brae: a twist on the original Rob Roy cocktail created in 1894, made with Highland Park Dark Origins scotch, Gran Classico Amaro, Vedrenne Cr?me de Cacao, Grand Marnier, a touch of cardamom cream, nutmeg and garnished with a honey cluster.
? The Hiker?s Delight: a granola bar-inspired concoction created with Averna Amaro, Kina I?Avion d?Or- an apertif wine with essences of quince, orange peel and cinchoa bark, Lustau Solera Reserva Sherry, fresh lime, mint and garnished with a dried apple blossom.
To pay homage to The Mirage?s rainforest theme, guests may purchase the Typhoon cocktail, a tropical drink that comes in a custom, limited edition, Mirage souvenir tiki mug, priced at $35.
Hours of operation:
? Center Bar: Daily, 10 a.m. – 5 a.m.
? Parlor Lounge: Tuesday ? Saturday, 6 p.m. – 2 a.m.
Related Links: