Maverick Helicopters has invested nearly $2 million to upgrade its entire ground transportation fleet to limo coaches, offering Vegas visitors an extravagant experience beyond just takeoff to touchdown.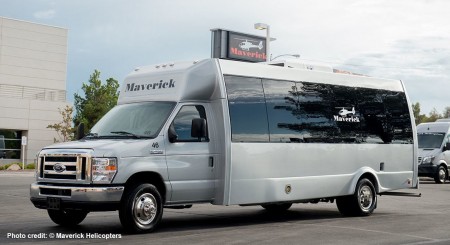 Mixing a limousine-style configuration with generous group seating abilities, the brand new limo coaches possess the VIP flair of Vegas while supplying a far more spacious interior than traditional limousines. Combined with the latest and biggest number of ECO-Star helicopters on the planet, adding a limousine coach fleet makes Maverick Helicopters probably the most comfortable full-service helicopter experience on the planet. Maverick Helicopters offers complimentary hotel pickup and drop-off services from all Vegas Strip properties for its helicopter activities.
"We wanted to raise the bar with our shuttle service's style and comfort, so it would match our premium helicopter experiences," said John Buch, president of Maverick Aviation Group, parent company of Maverick Helicopters. "Safety and customer service are always first on our list; therefore, this development really goes along with the Maverick mission."
Maverick Helicopters' new limo coaches feature limo-style seating with extended leg room, plush leather cushions, condition-of-the-art audio systems, unique accent lighting and much more features that lead towards the ultimate Vegas luxury trip. The coaches are a mixture of Mercedes-Benz Sprinters and bigger luxury automobiles having the ability to chair 10-20 people easily.
Related Links: