The highly-anticipated new Center Bar has become open at Hard Rock Hotel & Casino Vegas. Situated inside the heart from the resort, the larger and better Center Bar emits a dynamic vibe using its upgraded look, new lounge area, broadened cocktail menu and spectacular breathtaking sights from the casino floor.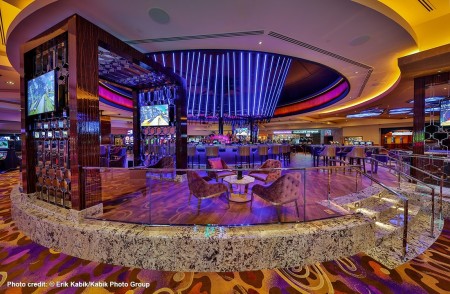 "Twenty years ago, Hard Rock Hotel opened its doors and introduced a new bar concept to the public that was continually sought after and replicated amongst other properties in Las Vegas," said Jody Lake, chief operating officer at Hard Rock Hotel. "Center Bar stood strong and created memories for many people, and we couldn't be more excited to welcome guests back to experience the new Center Bar, which represents the past, present and future of the property."
The brand new design, constructed of lovely white spring granite and silver paneling, keeps the elevated and circular type of the initial Center Bar that lots know and love. A LED light fixture dangles over the glowing tower bottle display and can serve as the brand new focus in Center Bar's domed ceiling. Additionally, it features innovative video abilities that let it stream colors that match the background music videos using the nearby high-definitions televisions.
The brand new lounge area at Center Bar produces a far more comfortable atmosphere for visitors to savor a beverage using its mixture of banquettes, stone-top cocktail tables, plush couches and-definition Televisions. The eclectic furnishings are upholstered with faux alligator textures and smooth velvets that contain shades of crimson and golden amber. The area is just steps from Hard Rock Hotel's award-winning entertainment venues, The Joint and Vinyl, which causes it to be a handy gathering place for visitors to seize a glass or two, watch videos or catch a game title before a motion picture. To accomplish the ambiance, the brand new lounge area's ceiling has a number of polished, metal-trimmed, hexagon-formed coves fixed with multicolor lights that dance towards the sounds of music heard through the property.
Visitors can take advantage of Center Bar's new trendy cocktail menu that has martinis, beer, wine and niche drinks produced by employees who started working in the original Center Bar in 1995. Drinks include Fu Fu Cachu, created using Malibu Rum, Captain Morgan Rum, pineapple juice and cranberry juice; B-Train to Georgia, a fruity mixture of C?ROC Peach, Cointreau, orange juice, cranberry juice and pineapple juice; Fire on Ice, a mix of Jack Daniel's Tennessee Fire, Baileys Irish Cream, Whitened Cr?me p Cacao and butterscotch; All Nighter, filled with Stoli Vanil, Kah?la, iced coffee and Baileys Irish Cream; Painted Woman, combined with C?ROC Red-colored Berry, X-Ranked Fusion Liqueur, exotic juice, fresh lime juice and orange blossom water; or C?ROC Obama, an even mixture of C?ROC, Godiva Chocolate Liqueur, Godiva Whitened Chocolate Liqueur, Chamboard Liqueur and cream.
Related Links: