Celebrate the best?hour of the day with Caesars Entertainment Las Vegas Resorts and enjoy a variety of beverage and dining Happy Hour options.
Bally's Las Vegas
? The sophisticated New York City import, BLT Steak, boasts a stylish bar with elegant fixtures and signature cocktail staples, including the Watermelon Basil and the Cool Woodford with Woodford Reserve and Ginger Beer. Guests can enjoy these cocktails and more half-priced at the bar from 4 p.m. to 6 p.m. daily.
? The new Tequila Taqueria offers a wide range of authentic Mexican drinks for happy hour. Happy hour includes a bucket of five Mexican beers for $20 from Sunday to Thursday 3 p.m. to 5 p.m. and 10 p.m. to 12 a.m. Also enjoy $2 chicken and beef tacos in their fresh-pressed corn and flour tortillas. ?Viva Tequila Taqueria!
Caesars Palace
? FIZZ Las Vegas, the lavish champagne lounge and bar, hosts Bottomless Bubbles, a daily bottomless champagne ?event, where guests can drink unlimited bubbles for $36 per person within the 5 p.m. to 7 p.m. or 7 p.m. to 9 p.m. windows.
? Gordon Ramsay Pub & Grill, Las Vegas' favorite pub experience, has introduced a very special Hell's Kitchen Happy Hour, in honor of Ramsay's hit FOX reality series. Happy hour offerings include $5 13oz draft beers, with a $2 upgrade for a 20oz pint, $7 draft wines, and $5 pub snacks, which include Truffle Fries, Pub Spot, Toad in the Hole, Pretzel and Deviled Egg. For $2 more, enjoy the Nachos or Half Order Wings. Guests can experience these special offerings Monday through Friday from 2 p.m. to 5 p.m.
? Apostrophe Bar helps guests celebrate weekdays with Wine-down Weekdays! Enjoy $2 off all draft beers and barrel-fresh wine Monday through Thursday from 3 p.m. to 5 p.m. Choose from a wide range of cocktails such as The Missing Apostrophe, which is Herradura Caesars Palace Select Double Barrel Reposado tequila, grapefruit cordial, fresh lime and basil, with pink salt.
Flamingo Las Vegas
? From 5 p.m. to 7 p.m. Center Cut offers two-for-one house wines, draft beers and signature cocktail within the 'old Vegas" ambiance the steakhouse boasts. Guests can devour the Bugsy Burger for $12 and select appetizers for $6-$7.
Harrah's Las Vegas
? Overlooking the world-famous Strip, Las Vegas' only Ruth's Chris Steak House hosts a daily Sizzle, Swizzle & Swirl Happy Hour at the bar area from 4:30 p.m. to 5:30 p.m. and from 9:30 p.m. to 10:30 p.m. Premium cocktails and menu items are offered throughout this time, including: Prime Burger with fries, Steak Sandwich with fries, Seared Ahi Tuna, Spicy Lobster, Blueberry Mojito, La Paloma, Manhattan Eastside and selection of wines.
The LINQ Hotel & Casino
? The world's tallest observation wheel, the High Roller hosts happy hour any time of day upon request. For one revolution around the wheel, guests are treated to an open bar inside the cabin for the full 30 minutes. Day happy half hour starts at $37 per person and the night happy half hour runs $52 per person. Visit www.thelinq.com for more information and to purchase tickets.
? New York Times Best-Selling author and Emmy Award-winning host, Guy Fieri, offers a happy hour at his popular Strip restaurant, Guy Fieri's Vegas Kitchen & Bar. The late night happy hour is Sunday to Thursday from 10 p.m. to close. Enjoy $4 Miller Lite drafts, $5 Fireball shots and $6 well drinks.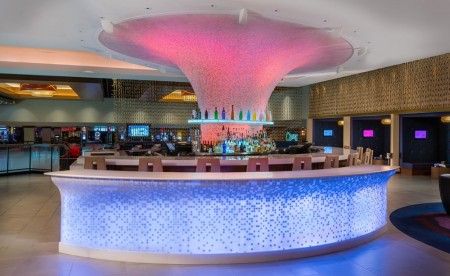 ? Las Vegas' only infusion bar, 3535 has a happy hour from 3 p.m. to 6 p.m. daily. Choices include $6 wines on tap, $4 domestic beers, $4 Infused barrel aged signature cocktails?(half size) and $8 barrel aged cocktails. 3535 also has a reverse happy hour Sunday through Tuesday, 10 p.m. to close with $4 domestic beers and $6 glasses of wine on tap.
? Yard House offers their happy hour Monday through Friday from 3 p.m. to 6 p.m. It features select appetizers from $5 along with beer, wine and crafted cocktail offerings. Come any time of the year to enjoy the seasonal draft beers from local, domestic and imported brewers.
? O'Sheas is an unforgettable Irish experience at all hours of the day. Daily drink specials include 12 oz. draft beer?for $4, Coors Light, Miller Lite , Jager and Fireball shots for $7, Jameson & Tullamore Dew shots $7 and call cocktails for $9.
? At Brooklyn Bowl, from 5 p.m. to 7 p.m. daily, take 50 percent off cocktails and appetizers and again at the reverse happy hour with the same offerings from midnight to close.
? The combined Mexican Kitchen and Tequila Bar makes Chayo the perfect place on The Strip for a fiesta. This Mexican party venue has happy hour daily from 3 p.m. to 6 p.m. This includes 2-for-1 margaritas; 2-for-1 well drinks and $4 draft beer.
? Off The Strip has happy hour 2 p.m. to 5 p.m. daily and reverse happy hour midnight to 3 a.m. Included are $7 appetizers; $3 off well drinks and wine and half off craft beers.
? The Tilted Kilt has happy hour Monday through Friday from 3 p.m. to 6 p.m.; Sunday through Wednesday enjoy a reverse happy hour hour from 10 p.m. to close. Options include $5 Pinnacle Vodka, Juarez Tequila, Ron Rio Rum, Crystal Palace Gin, Jim Beam & Star Whiskey and 14oz. domestic draft. Also included are $6 Titos Vodka, Bacardi Rum, and 14oz. imported draft and $7 call spirits.
? TAG Sports Bar has high-tech gaming as well as world-wide sports constantly shown on the surrounding TV's and features more than 300 brews from all around the world. Take advantage of happy hour 1 p.m. to 4 p.m. and 2 a.m. to 6 a.m. daily to enjoy the $5 TAG Beer of the Day and $10 Hop Tails.
? Monday through Thursday from 5 p.m. to 7 p.m., come to self-serve daiquiri bar, Purple Zebra, for happy hour and get $10 daiquiri refills on Vessels up to 46oz. Choose from 20 different flavors or mix and match to satisfy your taste buds.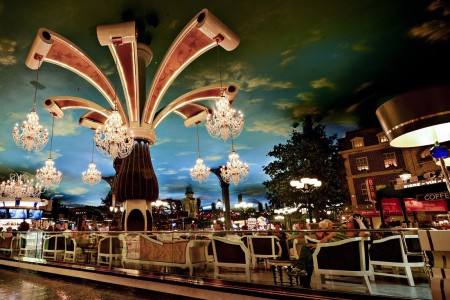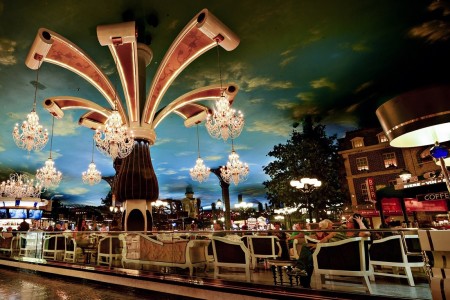 Paris Las Vegas
? Offering a French interpretation on American classics, Burger Brasserie hosts a daily happy hour from 4 p.m. to 6 p.m. with 2-for-1 on any drinks in the bar area.
? The chic Le Central bar brings happy hour to the morning hours with select specialty cocktails available for $8 from 6 a.m. to 2 p.m. daily. Selections include Soiree Bloody Mary, Sunshine Screwdriver, Kahlua Coffee Martini and the Perrier-Jouet Mimosa.
Rio All- Suite Hotel & Casino
? Sunday through Thursday from 4 p.m. to 6 p.m. Masquerade Bar offers 16oz. Sauza Margarita in a souvenir shaker for $12, Cruzan Run Hurricanes for $7 and Blue Moon/Coors Light drafts for $5.
Related Links:
Book Now: Caesars Palace Hotel
Book Now: Paris Hotel
Book Now: Flamingo Hotel
Book Now: Bally's Hotel
Book Now: The Linq Hotel
Book Now: Harrah's Hotel
Book Now: The Rio Hotel
BLT Steak Steakhouse Restaurant
Gordon Ramsay Pub & Grill English Restaurant
Center Cut Steakhouse Restaurant
Ruth's Chris Steakhouse Restaurant
Chayo Mexican Kitchen + Tequila Bar Mexican Restaurant
Guy Fieri Vegas Kitchen Bar American Restaurant
Brooklyn Bowl American Restaurant
Tilted Kilt American Restaurant
Burger Brasserie American Restaurant