Celebrity "Rock 'n' Roll Chef" Kerry Simon's award-winning Downtown Vegas restaurant, Carson Kitchen, features a range of new menu choices starting in mid-August.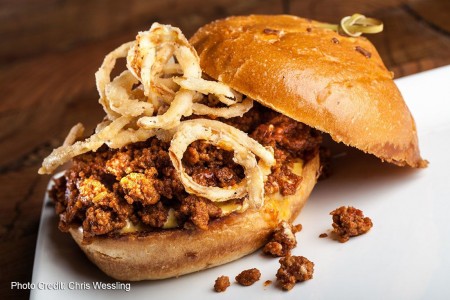 Simon and business partner, Cory Harwell, developed the brand new ideas and quality recipes to mirror the unique twists and ingredient-drive dishes which have powered Carson Kitchen to become a staple of downtown dining. The menu includes a range of new entr?es, shared plates and desserts incorporated with remaining faves.
Made by lately-named Executive Chef Eugene Santiago, new sandwich choices include: a wild boar sloppy Joe with crispy fennel and orange aioli for $14; and FGT sliders, a mix of fried green tomatos and lump crab ravigote, listed at $12. Replacing the bone marrow bruschetta is really a new mushroom ceviche with beech mushrooms and taro chips for $10.
Contributing to the new choices, Carson Kitchen features a bone-in pork belly with stone fruit glaze for $15 and halibut with a cava and grape juice beurre blanc, listed at $15. New flatbread choices range from the wild mushroom with smoked green spinach, artichokes and mozzarella for $12 and also the alligator gumbo created using Andouille sausage and pickled fried okra, for $14.
Other new choices include a peach and heirloom tomato salad with goat cheese, rye crouton and saba, for $11; the return from the rabbit ragu, created using spaghetti squash and parmesan for $14 and also the succotash with corn, lima beans, peas and crema fresca, listed at $8. Chef Simon's latest dessert addition is really a WineBerry Shortcake, offered with lavender cream and streusel, listed at $8.
To wash down the menu additions, new cocktails happen to be introduced all listed at $12. The Bee's Knees, made from Hana Gin, fresh lemon and smoked honey; Get Shorty! a mix of El Jimador Tequila, grapefruit, fresh lime and cayenne simple syrup; and also the Nilsson Schmilsson, made from Sugar Island Coconut Rum, fresh lime, tulsi simple syrup and egg white.
Related Links: