Serendipity 3 at Caesars Palace, the Vegas outpost from the fanciful New York eatery remembers National Frozen Treats Day on July 19 with the debut of the Peanut Butter & Jelly Glazed Donut Ice Cream Sundae 10-minute challenge.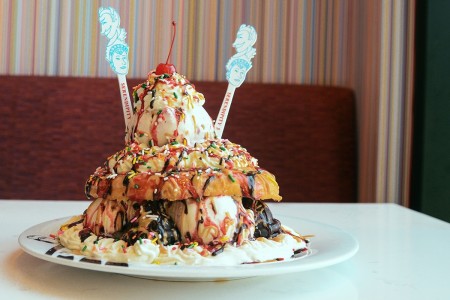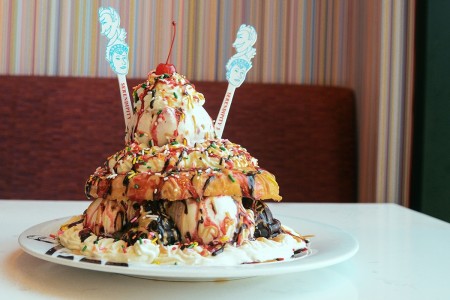 The decadent sundae features three pints of strawberry and vanilla ice cream, one 10-inch glazed donut, Oreo kisses, chocolate sauce, raspberry sauce, peanut butter sauce, whipped cream along with a cherry on the top. Visitors that may finish the sundae without the aid of friends within ten minutes receives the sundae free of charge.
The sundae is going to be offered as a stand alone item for $30 for individuals that don't desire to have fun playing the challenge. Individuals that choose to take part in the task and neglect to finish inside the 10 minute time period will be billed full cost for the sundae.
The Peanut Butter & Jelly Glazed Donut Ice Cream Sundae joins a sweet variety of sundaes at Serendipity 3, all offering unequalled methods to celebrate National Ice Cream Day. Faves range from the Fried Twinkie Sundae with vanilla ice cream, butterscotch sauce, hot fudge, marshmallow sauce and rainbow sprinkles, or even the Colossal Brownie Sundae with raspberry chocolate brownies with vanilla and chocolate ice cream, hot fudge and caramel. The Serendipity Las Vegas Treasure Chest, produced to fulfill four or even more visitors, has a chocolate chest box full of assorted ice cream, cookies, berries, cakes and much more, which makes it ideal for sharing with buddies.
Related Links:
Book Now: Caesars Palace Hotel
Serendipity 3 Cafe Restaurant