A spectacular soccer club in a spectacular city needs – you guessed it – a spectacular home uniform.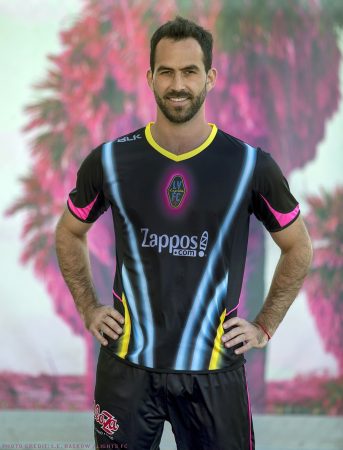 Las Vegas Lights Football Club (FC) unveiled just that on Wednesday in conjunction with primary jersey sponsor Zappos, who took the lead in designing the bold, fashion-forward kits. And the most unique highlight of the jersey will double as the most unique celebration jersey element in soccer history. Featuring a "smiley face" on the interior, players can smile for the cameras in an all new way by pulling the jerseys over their heads after goals are scored.
"We set out to make the boldest, most unique jersey in all of professional soccer, proudly representing the glitz, flash and glamour of Downtown Las Vegas," Lights FC Owner & CEO Brett Lashbrook said. "Our club pushes the envelope every chance we get, and this was our biggest opportunity yet. We gave the creative lead to Zappos, and we couldn't be prouder of the final product. We promise to make our fans smile!"
"This was an amazing opportunity to support our downtown professional sports team, share a little bit of the Zappos culture and contribute in the design the Las Vegas Lights' first jersey," said Loren Becker, Zappos Experience and Community Manager. "We all wanted it to be something different, unique and that spoke to the energy, excitement, and dazzle of Downtown Las Vegas. One of Zappos' core values is 'Create Fun & A Little Weirdness,' so it seemed obvious to add the smiley face on the inside of the jersey. The process was extremely fun, collaborative and was a fantastic way to start this partnership with Lights FC."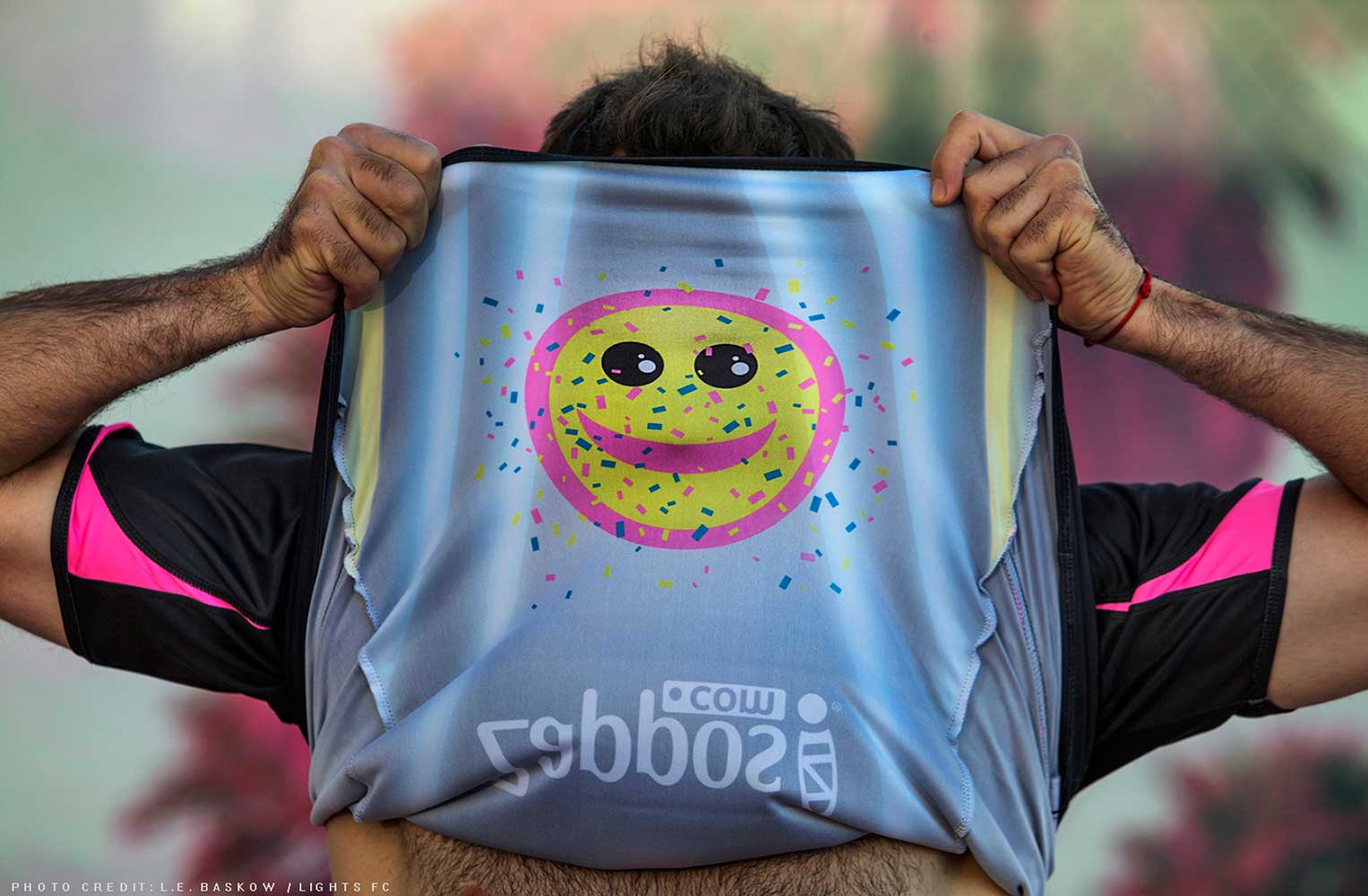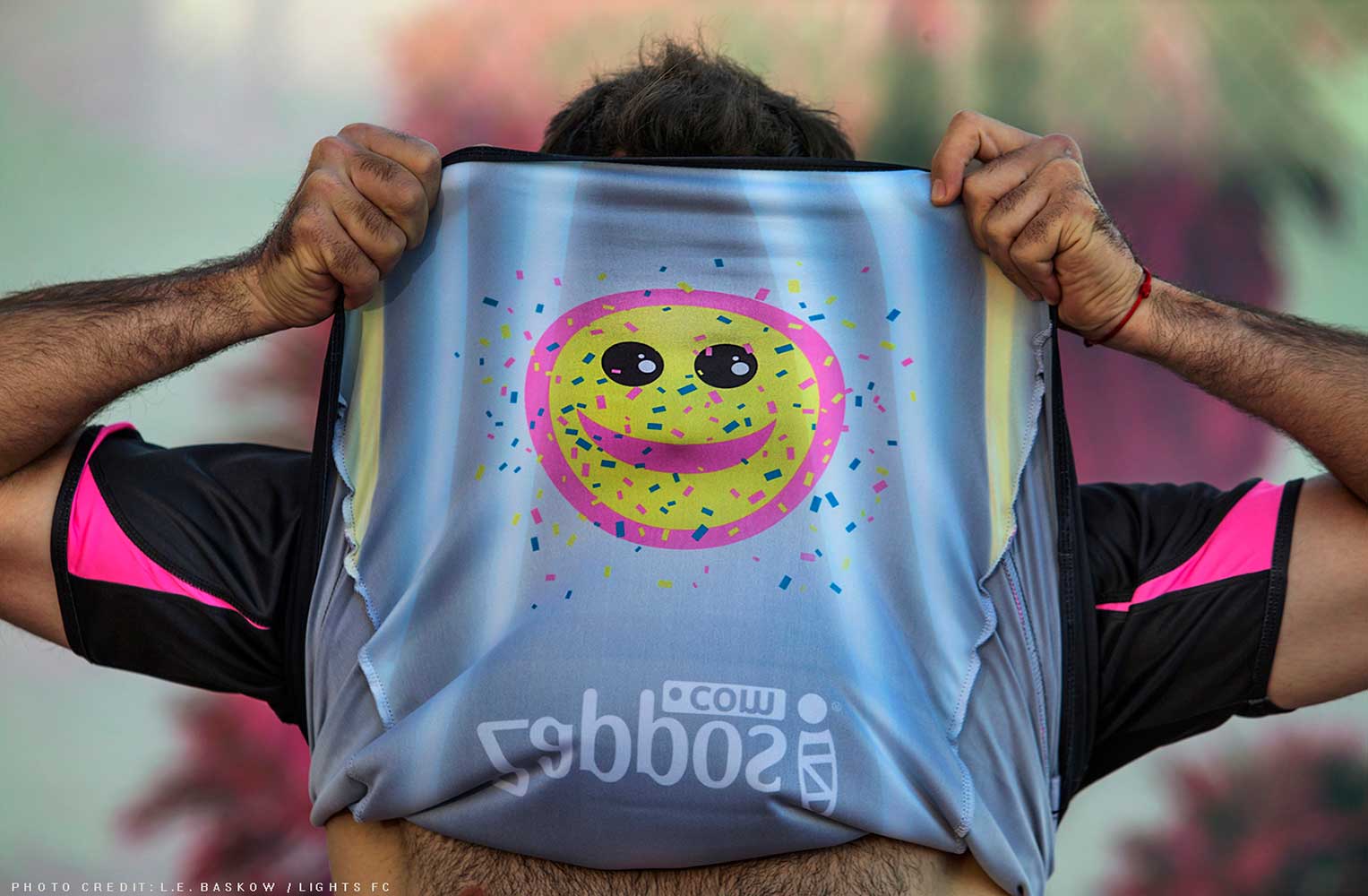 The jerseys, produced by U.K.-based apparel partner BLK, will be worn in action for the first time Saturday night, when Lights FC welcomes Major League Soccer's Montreal Impact to Downtown Las Vegas for an 8 p.m. showdown at Cashman Field. The club's away kits will be unveiled ahead of Lights FC's United Soccer League (USL) regular season opener, taking place March 17 at Fresno FC.
The jerseys are available for immediate sale at the Z'Boutique located on the Zappos campus (M-F, 9 a.m. – 5 p.m.; 400 Stewart Ave., Las Vegas, NV, 89101), and will also be available at Saturday's home match and all future home matches. Online purchasing will be available soon through Zappos.com. In the interim, fans may go to LightsFC.com/Merchandise to register for a Zappos representative to contact them directly later this month for online purchase.
The jersey unveiling followed Tuesday's debut of the club's official match shorts, which feature Plaza Hotel & Casino – Lights FC's official hotel partner – branding on the right leg. The back of the jersey, below the players' names and numbers, is anchored by branding from Lights FC's official automotive partner – Findlay Automotive Group.
Related Links: