Crews on Wednesday morning, Januar 24,. 2018, began laying down 16,000 square feet of Hybrid Bermuda 419 turf, converting Cashman Field into an authentic soccer venue. The first conversion of the stadium's surface will remain in place through the end of February, hosting the first three matches in Las Vegas Lights Football Club (FC) history. Those matches will come on consecutive Saturdays in February, as three Major League Soccer (MLS) clubs visit Downtown Las Vegas for Soccer Spring Training matches versus Lights FC.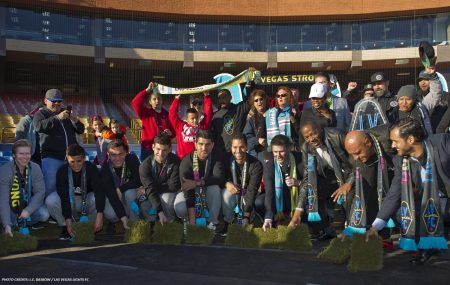 The first home match will take place on Saturday, Feb. 10, with MLS's Montreal Impact coming to Cashman Field. The first of 17 home matches on Lights FC's United Soccer League (USL) regular season schedule comes on Saturday, March 24, versus in-state rival Reno 1868 FC.
Single-game tickets for the three Soccer Spring Training matches and the Reno 1868 FC showdown are now on sale.
Installing the turf this week and performing each Cashman Field conversion throughout Lights FC's 2018 season will be World Sports Solutions International, which is a locally-based company with extensive sports turf experience, including the 2014 FIFA World Cup in Brazil.
Some key details behind the Cashman Field conversion:
• Each conversion includes the removal of three pitching mounds – the main mound on the infield, and the two bullpen mounds on the third base side.
• The Hybrid Bermuda 419 turf will match the existing turf in the Cashman Field outfield, and turf pigment will be used to display a matching color on the entire pitch.
• The turf is known as being "game ready," due to the thickness of its cut. As opposed to normal half-inch thick sod, the turf being used at Cashman Field is between 1.25 and 1.75 inches, with a root zone already in place. It is ready to be played on the day it goes down.
• On the first installation of the turf, the infield level is being lowered by 1.25 inches to create a seamless, easily leveled surface.
• The turf used for the first conversion will be disposed of, as rooting will take place due to the length of time it will be in place. The turf for the rest of the in-season conversions will be re-used for as many conversions as possible.
"Here we go, what an exciting moment, Cashman Field is about to look completely different to fans – No pitchers mound, no infield dirt, we are bringing new life to this historic stadium in the heart of Downtown Las Vegas," Lights FC Owner & CEO Brett Lashbrook said. "By the end of this week, we will be able to show you what Cashman Field will look like for a Lights FC match, complete with painted lines on the pitch, goals, corner flags and plenty more. The end result will be an intimate, soccer-authentic venue that will help provide a memorable experience for Las Vegas soccer fans."
Related Links: