The legendary cast of Legends in Concert, the longest-running show in Las Vegas at Flamingo Las Vegas, will greet the season with the debut of its holiday show on Monday, Nov. 20. Just as the Radio City Rockettes have become synonymous with the holiday season in New York City, the annual holiday show at Legends in Concert has become part of the famous festivities in Las Vegas for both tourists and locals.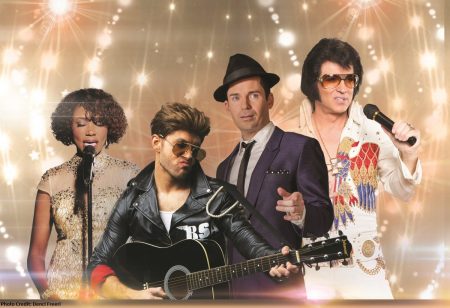 Save $20 On Legends In Concert Tickets
For the first time in the production's history, Legends in Concert will debut a dazzling tribute to the late superstar George Michael, portrayed by Michael Knight. The musical journey will recreate the greatest hits of George Michael's solo career and Wham!, along with the holiday classic "Last Christmas." Guests will enjoy signature hits by the entire legendary cast, as well as, favorite songs of the season. Whitney Houston, portrayed by Jazmine, will warm hearts with his stunning vocals on "Do You Hear What I Hear;" Frank Sinatra, portrayed by Brian Duprey, will bring holiday cheer with "Marshmallow World;" and Elvis Presley, portrayed by Matt Lewis and Bill Cherry, performing the King's legendary "Blue Christmas."
Keeping with the show's annual holiday tradition, local youth choirs and performing arts groups have also been invited to perform in the holiday production, providing young talent an opportunity to perform on the historic stage in the Donny and Marie Showroom.
An all new blockbuster opening number begins the festivities with Brian Setzer Orchestra's rendition of "Jingle Bells." For the big finale, the entire cast will perform "The Most Wonderful Time of the Year" and the Legends band brings music memories to life with a sensational tribute to the Trans-Siberian Orchestra's "Christmas Eve in Sarajevo" ("Carol of the Bells") that brings the magic of the season to Las Vegas.
This very special holiday production at Legends in Concert begins November 20 and continues through December 30.
For more than three decades, Legends in Concert has proudly entertained more than 6.6 million Las Vegas visitors and residents, produced over 18,500 performances on the Las Vegas Strip and performed to more than 30 million fans worldwide.
Related Links: