Luxor Hotel and Casino recently unveiled its newly remodeled rooms as the hotel continues the redesign of more than 1,700 hotel rooms in its East and West towers. The remodel began in early November and will continue to roll out through Q1 2018.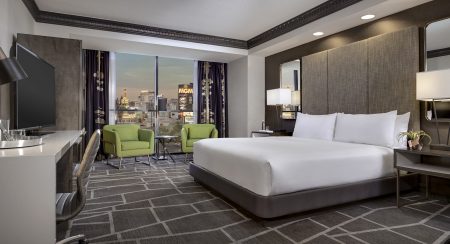 Envisioned by MGM Resorts International Design, the remodeled rooms are inspired by the unique geometric form for which the Luxor is well-known and feature a crisp, natural color palette and modern, efficient design. Dominant colors within the space, including hazy amethyst, deep smoky green, charcoal and fawn, are drawn from the beauty of the desert.
Several thoughtful design features streamline the guest room experience at Luxor. Multi-functional furnishings offer a spacious floorplan, maximizing living space and functionality without sacrificing comfort. One piece, which combines a wardrobe, storage space, work desk and media center, creates an efficient footprint within the room by streamlining guest needs into a single centerpiece.
Lending a distinctly residential feel, enhanced lighting creates an even illumination throughout the guest rooms. Multiple power outlets have been added to the bedside, as well as workspace lighting bases to accommodate the ever-growing needs of high-tech travelers. Additionally, bathrooms have been updated with new chrome fixtures and a fresh, natural color palette that expresses the same modern sensibility.
Complementing the clean, calm guest room design, guest room corridors have been reimagined to provide a more dramatic arrival experience featuring bold Mojave desert-inspired artwork.
Distinctive light fixtures cast geometric patterns on the ceiling and floor, paying homage to Luxor's unique design.
Related Links: