With over a decade of amazing success and remarkable reviews, celebrity chef, restaurateur, cookbook author and media personality, Bobby Flay continues to bring his signature Southwestern flavors to Mesa Grill at Caesars Palace with the introduction of several new menu items. Flay conceptualized, trialed and finalized these new menu items, alongside Mesa Grill executive chef Ryan Calvo and team. These new additions mark the most extensive menu update in the last several years, and incorporate an exciting assortment of vibrant new flavors and ingredients.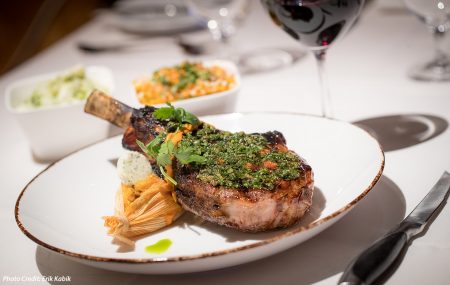 "As the culinary scene continues to evolve in Las Vegas and throughout country, so does my menu at Mesa Grill at Caesars Palace," said Bobby Flay. "The things that never change are the bold flavors and fresh ingredients that I always bring to the table whether I'm cooking at home or developing new dishes for my restaurants."
The new additions to the appetizers section of the menu are vegetarian-friendly, but even non-vegetarians won't be missing the meat in these dishes:
• Roasted Beet Tamale made with yellow and red beet salad, goat cheese and topped with tangerine yogurt dressing and beet vinaigrette
• Crusted Avocado Tostada made with blue corn masa, panko crusted avocado, black bean and piquillo relish, and a cumin haberno crema drizzled on top
• Charred Shishito Peppers made with pomegranate salt, cumin and mango agrodolce sauce
• Burrata Tostada made with blue corn masa, tomato and basil relish, tomatillo, basil and jalapeno vinaigrette and garlic chips
• Mesa Spreads with masa chips served with crushed avocado relish and cucumber jicama relish; and fresh ricotta cheese with red chile pipian salsa.
Additionally, the masa used in several of the new dishes, including the tostadas and masa chips, is locally sourced from Tortillas Inc. in North Las Vegas.
Three new bold entrées were also added to the menu:
• Steamed Halibut served in an ancho chile posole broth and topped with mint and cilantro
• Cornmeal Crusted Chile Relleno made with porcini mushrooms, cotija and guajillo chile sauce
• Fire Roasted Veal Chop withsalsa verde, chorizo and a goat cheese tamale with thyme butter
Much of the inspiration for the new Mesa Grill menu items comes from Flay's Mediterranean restaurant in New York City, GATO, which is known for its vegetable-forward dishes. With his new cookbook, "Bobby Flay Fit," debuting in December, Flay is all about not compromising great flavor for healthy options.
After opening in 2004, Mesa Grill quickly became an iconic restaurant on the Las Vegas Strip, and opened the door for other celebrity chefs to leave their mark on the city. The combination of Mesa Grill's magnificent decor, the energetic vibe of the casino atmosphere and Bobby Flay's stunning range of textures, flavors and colors incorporated into his menu continue to electrify diners year after year.
Related Links:
Book Now! Get Rooms Starting at $109 at Caesars Palace
Mesa Grill Southwestern Restaurant