Embracing the vibrant sights of the season, Bellagio's Conservatory & Botanical Gardens invites guests to wander through enchanting landscapes featuring exotic peacocks and mystical creatures in its new autumn display, open now through November 25.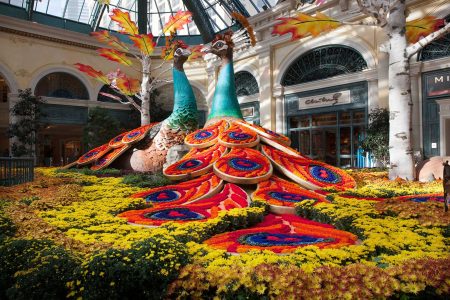 Envisioned by renowned designer Ed Libby and the Bellagio Horticulture team, the Conservatory's exhibit encompasses the essence of fall with thousands of flowers rich in hues of umber, sienna and amber. The dazzling display includes subtle nods to Libby's travels to India, seen prominently in the use of stunning, flower-encrusted peacocks. Symbolizing strength, beauty and renewal, male peacocks molt their tails at the end of each summer, similar to the way trees lose their leaves in autumn each year.
Surrounded by magnificent vegetation, the journey begins in the East Garden as guests walk through a 25-foot circular dome draped in gold and burgundy vines, decorative tassels and elaborate yellow leaves. Four ornate chandeliers, embellished with crystals and rust-colored foliage, illuminate a soft glow over the pathway, guiding guests to the centerpiece of the harvest season display.
Capturing guests' attention as they walk through the entryway, two striking 19-foot peacocks rest among two 24-foot massive trees within the West Garden. Consisting of over 14,000 chestnut, marigold and blue-colored preserved roses, the exotic birds' 24-foot-long tails cascade around a waterfall nestled between the birds as a striking array of translucent leaves float high above.
In addition to the stunning new additions, several classic pieces return to the installation. In the South Garden, a 28-foot enchanted talking tree and three lively scarecrows welcome guests to the Conservatory. Steps away in the North Garden, three mythical creatures beckon guests closer to the garden, featuring a fountain overtaken by fog and surrounded by two topiary acorns made from 1,700 flowers.
Bellagio's Conservatory and Botanical Gardens is complimentary to the public and open 24 hours a day, seven days a week.
Harvest Display By the Numbers
• 45,000: Total number of flowers on display for the duration of the exhibit
• 14,000: Number of preserved roses creating the peacocks' tails
• 1,700: Number of flowers used to make the acorn topiaries
• 1,200: Number of flowers used to create the pumpkin topiaries
• 1,200: Weight (in pounds) of the largest pumpkin used in the harvest display
• 300: Number of silk weeping willow branches hanging from the North Bed oak tree
• 100: Team members who participate in the display's assembly
• 12: Number of varieties of Chrysanthemums featured in the harvest display
• 11: Number of water-emitting devices creating fountains in the Conservatory & Botanical Gardens
• 4: Number of draped crystal chandeliers
Related Links: