GRAMMY® nominated pop star Leona Lewis celebrated her 32nd birthday at Las Vegas' hottest new production, MAGIC MIKE LIVE LAS VEGAS, with a large group of friends at Club Domina inside Hard Rock Hotel & Casino. Lewis was ecstatic as she joined a packed crowd in cheering on 13 of the world's hottest and most talented men. The audience also enjoyed a surprise appearance by Magic Mike star Channing Tatum, who thanked guests for coming to the show. Following the performance, Lewis reveled in a private meet-and-greet with the guys, posing for photos and sharing enthusiasm for the show with the cast.

 Magic Mike Live! Tickets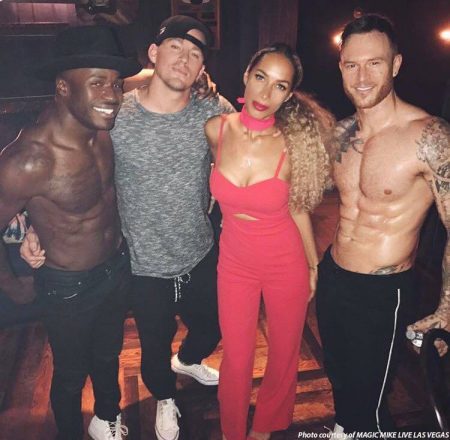 Magic Mike Live! Discounted Tickets
ABOUT MAGIC MIKE LIVE LAS VEGAS
Declared "the most-buzzed-about new production" in Las Vegas by the Las Vegas Review-Journal, hailed as "the modern strip show we deserve" by USA Today, and celebrated as "the show that has everything you could ever want" by Glamour UK, MAGIC MIKE LIVE LAS VEGAS is an all-new, first-class entertainment experience based on the hit films Magic Mike and Magic Mike XXL. Serving as "the cure to the common male revue" (Las Vegas Sun), the show recreates the mythic Club Domina as a cabaret nightclub space inside the Hard Rock Hotel & Casino that has been fully redesigned to capture the magnetism of the Magic Mike franchise. The state-of-the-art venue is designed with the capabilities to house a show that features 13 of the hottest and most talented men in the country performing in front of, behind, above and all around the audience. Conceived by Channing Tatum and co-directed by Tatum and film franchise choreographers Alison Faulk and Teresa Espinosa, the show features sexy and daring themed dance and strip routines punctuated by one of a kind acts from a wildly diverse cast of performers. MAGIC MIKE LIVE LAS VEGAS is a sizzling 360-degree dance and acrobatic strip tease spectacular guaranteed to bring on the heat.