MGM Grand Hotel & Casino and Zero Latency, the irrefutable world-leader in location-based free-roam Virtual Reality (VR) entertainment, will introduce Las Vegas' first multi-player free-roam VR experience inside LEVEL UP gaming lounge on September 8.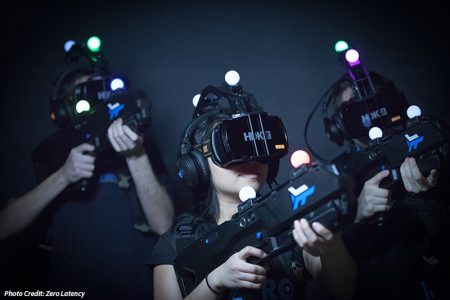 The arena, "Virtual Reality Powered by Zero Latency," will immerse up to eight players in a completely interactive digital universe, allowing them to physically navigate considerable distances through the 2,000-square-foot arena while collaborating with other players in heart-racing challenges.
Zero Latency CEO Tim Ruse noted, "When it comes to playing games, and exploring new worlds in virtual reality, more people means more fun. Technology can often be isolating but we are determined to continue to design games and experiences that bring people together to have mind-blowing VR adventures and forge real memories that can last a lifetime. We're excited to bring this experience to Las Vegas, our first West Coast location."
Teams can choose from three different games for a 30-minute experience, depending on what kind of adventure they seek.
• Zombie Survival – The team is trapped in a zombie apocalypse, with the undead lurking around every corner ready to attack. Armed with a comprehensive arsenal of weapons, survivors must band together to take down wave after wave of zombies and rebuild safety barriers before extraction by the rescue team.
• Singularity – Something has gone wrong in a secretive military research space station. While investigating the mystery, teams must battle rogue robots and killer drones through narrow corridors and the zero-gravity environment of space.
• Engineerium – This puzzle adventure is set in a fantastical world with flying whales, giant parrots and colorful creatures. Players of all ages are challenged to solve physics-based problems as a team to advance along floating platforms high above the exotic planet below.

Featuring an open space with no obstacles, the arena enables teams to freely explore the virtual environment together. Wireless goggles and wearable computers make the adventure even more realistic, letting players lose themselves in the game without being tethered. While battling through the simulation, teammates will see each other as full-motion avatars and stay in constant communication to strategize, call for backup and ultimately compete for the highest score.
Integrated into LEVEL UP, MGM Grand's tech-savvy gaming lounge, this exhilarating VR technology complements its collection of new-to-market skill-based games and traditional favorites perfect for enhancing the social environment and sparking friendly competition.
"We were looking to bring a unique entertainment element to MGM Grand and found the perfect fit with Zero Latency. This company creates virtual reality gaming experiences using astounding technology," said President and COO of MGM Grand Scott Sibella. "There is simply nothing like this anywhere in Las Vegas and we're proud that MGM Grand is the first in the city to roll out an exciting and fun virtual "wow moment" for our guests."
Each playthrough is a unique experience with success measured both by a personal score and a team score. Players stay in contact with each other through Razer-integrated headphone / microphone units and are outfitted with OSVR HDK2 virtual reality headsets while wearing a military-grade backpack containing a high-performance Alienware PC gaming computer. They carry a perfectly weighted, custom-made simulated weapon for game sessions that require firepower.
The first Zero Latency arena debuted in 2015 in Melbourne, Australia to six-week-long waiting lists. Since then, nine additional Zero Latency-powered arenas have opened across four continents. Zero Latency's innovative and patent-pending motion-traction system allows for the industry-leading feat of accommodating eight players in one game simultaneously.
Reservations to experience Virtual Reality Powered by Zero Latency at LEVEL UP inside MGM Grand will be available starting September 8.
Related Links: