For the fourth consecutive year, Tuscany Gardens inside Tuscany Suites & Casino has been awarded the Wine Spectator Award of Excellence for having "one of the most outstanding restaurant wine lists in the world."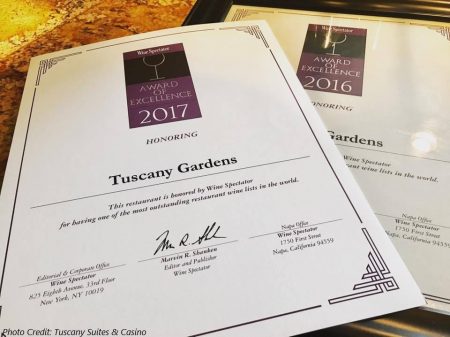 The Wine Spectator Award of Excellence praises wine lists that offer at least 90 selections, feature a well-chosen assortment of quality producers, along with a thematic match to the menu in both price and style. Tuscany Gardens is one of 28 restaurants in Las Vegas to receive the Award of Excellence.
Tuscany Gardens is an elegant fine dining Italian restaurant featuring USDA Prime steak, savory entrées like seafood and veal, favorite Italian classics and pasta complemented by the chef's sauces.
Related Links: