Magician Mat Franco had the honor of unveiling his new namesake marquee, Mat Franco Theater at The LINQ Hotel & Casino, which was renamed by the center-Strip resort in celebration of his continued career success. Kicking off the milestone afternoon, the property's regional president, Eileen Moore welcomed the crowd of invited guests and fans before inviting Mat to help her in unveiling the venue's new signage. "Today's a special day for us here at The LINQ, because we're able to rename The LINQ Theater in Mat's honor and really put a world-class stamp on our property," shared Moore.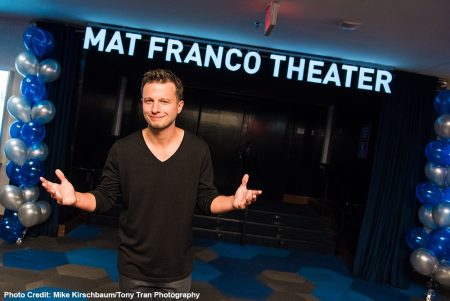 After revealing the long-awaited marquee, Franco expressed his gratitude for his producers and management teams at BASE Entertainment, Caesars Entertainment, and Red Light Management, as well as his mass of supporters and fans. "But we have more than a quarter of a million people who've all come through these doors over the last two years to thank most of all," shared Franco.

Save $25 On Mat Franco Magic Reinvented Nightly Tickets
Moore returned to the floor to introduce Clark County Commissioner Marilyn Kirkpatrick, who presented Franco with a plaque proclaiming July 10, 2017 as "Mat Franco Day" on the Las Vegas Strip and throughout the county. Commissioner Kirkpatrick concluded the presentation by surprising Franco with his very own Key to The Strip, an honor bestowed upon The Strip's top entertainers and public figures.
Afterward, the cast and crew of MAT FRANCO – MAGIC REINVENTED NIGHTLY and executives from Caesars Entertainment, BASE Entertainment, and Red Light Management gathered in the venue's meet and greet room for a private champagne reception. "We knew from the beginning that we had someone special on our hands," toasted Base Entertainment CEO Brian Becker. "Here's to many more years of success, Mat!"
Nearing the second anniversary of his first-ever headlining production, Franco has been hailed "a master magician for the millennial generation" (Las Vegas Sun), and MAT FRANCO – MAGIC REINVENTED NIGHTLY has received critical acclaim for being "unlike anything the Entertainment Capital of the World has ever offered" (Vegas.com).
About MAT FRANCO – MAGIC REINVENTED NIGHTLY
Mat Franco takes the stage in MAGIC REINVENTED NIGHTLY in the newly renamed Mat Franco Theater at The LINQ Hotel & Casino with a fun and feel-good twist on magic that defies all expectations. Named "Best Show" by Las Vegas Weekly and voted "Best Magic Show" in the Las Vegas Review-Journal's Best of Las Vegas Awards, MAGIC REINVENTED NIGHTLY treats guests to an unparalleled production with an innovative and immersive approach to magic that's driven by Mat's passion and imagination. With his signature brand of breezy humor, Mat mixes his amazingly inventive and stunning magic with crowd-guided improv, creating a once-in-a-lifetime adventure that's unique and unforgettable to each audience.
Related Links: