Abounding with lemons and Cypress trees, Bellagio's Conservatory & Botanical Gardens transforms into the picturesque island of Capri, Italy this summer. On view now through September 9, the Italian-inspired display takes visitors on a delightful journey through scenic grounds rich in botanical wonder, calming water features and vibrant colored villas, reminiscent of the charming island.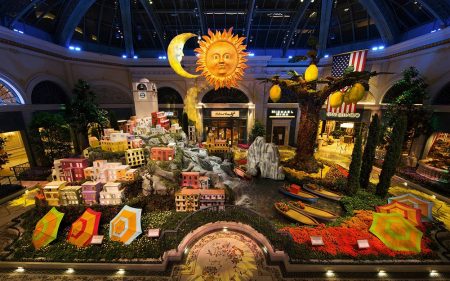 Envisioned by renowned designer Ed Libby and the Bellagio Horticulture team, the summer installation pays homage to well-known gardens throughout Italy and surprises visitors with a replica of the island of Capri, located in the Bay of Naples.
The journey begins in the East Garden as guests make their way through two 26-foot stone archways framed by eight Cypress trees. A four-tiered, 8-foot fountain, centrally located between the archways adds a soothing element to the garden while lemon trees emerge from four oversized handcrafted Italian vases.
Passersby will happen upon two lush gardens, resembling an estate near Rome. In the South Garden, an oversized 22-foot, moss-covered fountain overflowing with water pays tribute to The Fontana dell'Ovato located in Villa d'Este, a 16th century residence in Tivoli. Made of lentils, an 8-foot plate depicts the image of an Italian village landscape, illustrating the beauty found throughout the countryside. Nearby in the North Garden, water streams from five lion and monkey sculptures mounted on a foliage-covered wall lined with four lemon topiaries comprised of 1,400 flowers and an intricately majolica-tiled bench.
Surrounded by magnificent vegetation and eight hanging Italian lanterns, onlookers catch their breath at the rugged landscape and cove-studded coastline in the West Garden. Fifty multicolored villas complete with terraces, a 12-foot chiming bell tower and sun-soaked umbrellas create an architectural model representing life on the island of Capri. A 30-foot lemon tree provides shade to blue and white yachts calmly floating by Lovers' Rock.
Bellagio's Conservatory and Botanical Gardens is complimentary to the public and open 24 hours a day, seven days a week.
Summer Display Fast Facts:
Display dates: Now – September 9
Total flowers on display for the duration of the exhibit: 57,000
Stone Archway
Height: 26 feet
Length: 16 feet
Four-tiered Fountain
Height: 8 feet
Village Landscape Plate
Diameter: 8 feet
Italian Lanterns
Height: 6 feet
Width: 4 feet
Lemon Tree
Height: 30 feet
Lemon Topiaries
Length: 5 feet
Flowers: 1,400
Bell Tower
Height: 12 feet
Moon & Sun
Height: 16 feet
Width: 16 feet
Majolica-tiled Bench
Length: 8 feet
Related Links: