Pink Taco, the mega-hip Mexican cantina at Hard Rock Hotel & Casino Las Vegas,has launched new, irresistible brunch and happy hour menus crafted by distinguished chef Crystal Parker. Featuring bold, authentic flavors, residents, visitors and foodies alike can enjoy mouthwatering cuisine inside the Día de los Muertos decorated cantina or outside on the chic patio overlooking Hard Rock Hotel's world-famous pool scene.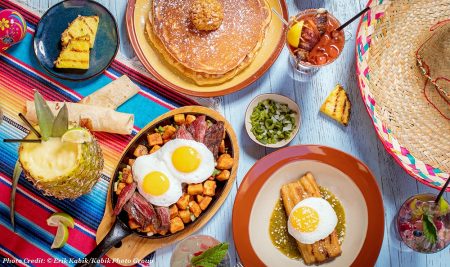 Pink Taco puts a south of the border spin on classic brunch items. The fiesta kicks off with sangria pitchers and margaritas every Saturday and Sunday from 11 a.m. to 3 p.m.
Brunch Menu Items:
• Crispy Chicken Tamale with tomatillo salsa, fried egg and queso fresco ($11)
• Empanadas with scrambled eggs, sweet potato, black beans, roasted chile and shaved kale salad ($12)
• Smoked Pork Bennie with sofrito hollandaise and chile spiced potatoes ($16)
• Churro Waffles with cinnamon and sugar crunch and brown butter cajeta ($12)
• Chilaquiles with corn chips, scrambled eggs, queso salsa roja and black beans ($10)
• Carne Asada Skillet with skirt steak, two eggs, roasted chile pico and papas ($18)
• Tres Leches Pancakes with fried ice cream and sweetened milk syrup ($12)
• Breakfast Torta with chorizo, scrambled eggs, smoked onions, pepper jack cheese and chipotle bacon mayo ($14)
• Huevos Rancheros with corn tostadas, ranchero sauce, pico de gallo and two eggs ($14)
• Chorizo Skillet with soft scrambled eggs, papas, roasted chile and stewed onions ($14)
• Hangover Green Chile Chicken Stew with smoked chicken and hominy stew served with traditional accompaniments ($9)
Guests can also order Pink Taco's happy hour every Monday through Friday from 4 to 6 p.m. Enjoy unbeatable specials on house margaritas and an array of well cocktails, cerveza, sangria, wine by the glass and select full-size menu items.
Happy Hour Specials ($7 each):
• Well cocktails
• Mi Casa margarita
• Two-for-one cervezas
• Red or white sangria
• Red, white or pink wine
• Zonkey Fries topped with carne asada, queso, jalapeños, sour cream and pico de gallo
• Fried Hominy tossed in lime juice and Tajín
• Tostada de Mariscos with shrimp, fish, octopus, whipped avocado, cucumber, pice de gallo and Tajín
• Margarita Chicken Wings tossed in a Pink Taco casa margarita and served with cilantro jalapeño ranch
• Grilled Spanish Octopus with romesco sauce and fried hominy
• Vampiro Chicken Tacos: crisp cheese filled with chicken topped with escabeche on a corn tortilla
• Jalapeño Relleno Tacos filled with pepper jack cheese served in a relleno sauce on a flour tortilla
• Flautas made with crispy flour tortillas, shredded pork and avocado crema
• Grilled Skewers made with marinated chicken or steak
• Chicken Taquitos made with corn tortillas, cotija and avocado crema
• Fried Tequila: fired tequila soaked angel food cake served with margarita curd dipping sauce
Pink Taco is open Sunday through Thursday from 11 a.m. to 10 p.m. and Friday and Saturday from 10 a.m. to late night.
Related Links:
Book Now: Hard Rock Hotel & Casino