Celebrated multi-Michelin star chef and television personality Gordon Ramsay announced live to his fans on Facebook today his plans for the first-of its-kind Gordon Ramsay HELL'S KITCHEN located at Caesars Palace Las Vegas, set to open this winter. To commemorate the announcement, Ramsay skillfully ignited the series' 17-foot signature pitchfork – transported straight from the set of the hit FOX show – in the center of Caesars' iconic fountains. This marks Ramsay's fifth Las Vegas restaurant and extends his successful partnership with Caesars Entertainment. As is the case at Chef Ramsay's other restaurants, the quality of the food and dining experience is paramount for the HELL'S KITCHEN restaurant.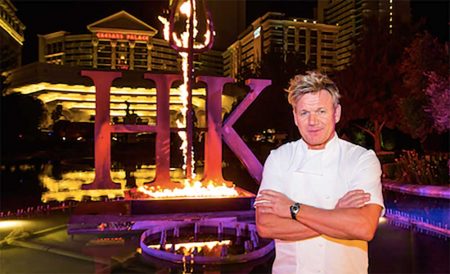 Masterfully designed by Jeffrey Beers International to be an experiential and immersive destination restaurant, guests will feel transported to the studio set, as if they are participating in the globally popular television show, the 17th season of which will air during the 2017-2018 season on FOX. With design features that are engaging to all senses and are a nod to both the red and blue teams featured on the show, the dynamic and bustling kitchen will be the centerpiece of this unique eatery to be enjoyed and appreciated from every seat in the house.
"Fans of the show have been asking us to bring a HELL'S KITCHEN restaurant to life since day one, so I'm thrilled to finally be doing it here at Caesars Palace," said Ramsay. "A key element of the show's success has always been the diners' experience, so we are excited for guests in Las Vegas to feel like they too are part of the show – flames and all."
Perfectly situated on one of the busiest corners in Las Vegas, directly at the center of the famous Las Vegas Strip at Caesars Palace, HELL'S KITCHEN restaurant will seat nearly 300 guests, feature indoor and Strip-adjacent patio dining and offer a daily themed brunch, dinner and spirited bar menu.
"Like so many others worldwide, I too have long been a fan of HELL'S KITCHEN and we are thrilled to be bringing a first-of-its-kind restaurant like this to Caesars Palace guests and visitors to Las Vegas," said Gary Selesner, Caesars Palace regional president. "We are so proud to welcome a second Gordon Ramsay restaurant into Caesars Palace, a partnership that continues to be the perfect recipe throughout many of our resorts."
The high-energy restaurant and bar will take its cue directly from the eponymous ITV Entertainment and FOX primetime television hit seen worldwide by millions of viewers, and will shine the spotlight on many of HELL'S KITCHEN cast/chef recipes and dishes featured on the show, including many of Chef Ramsay's signature dishes.
"Gordon is a true visionary and all of us at ITV America are thrilled to be working with him on this passion project, which brings the HELL'S KITCHEN experience to so many fans. We see this as a unique extension of a powerful brand that, 17 seasons in, continues to resonate with millions worldwide. It's an honor to be in partnership with both Gordon and Caesars in what will be a must-visit destination," said Ed Simpson, EVP Business Development & International, ITV America.
Construction on HELL'S KITCHEN restaurant will begin this summer with an expected opening date this winter.
Gordon Ramsay's Hell's Kitchen is a partnership between Gordon Ramsay and Caesars Entertainment in conjunction with ITV America. HELL'S KITCHEN airs in the U.S. on FOX and is produced by ITV Entertainment in association with A. Smith & Co. Productions. Arthur Smith, Kent Weed, Kenny Rosen, David Eilenberg and Gordon Ramsay serve as executive producers. HELL'S KITCHEN airs in 41 countries around the globe.
Related Links:
Book Now! Caesars Entertainment Las Vegas Hotels Hot Rates Starting at $30