Venture to great depths of the unknown at the world's first Polar Journey exhibit, now open adjacent to Shark Reef Aquarium inside Mandalay Bay Resort and Casino. This interactive experience gives guests a glimpse into the Earth's polar regions and the animals that call them home.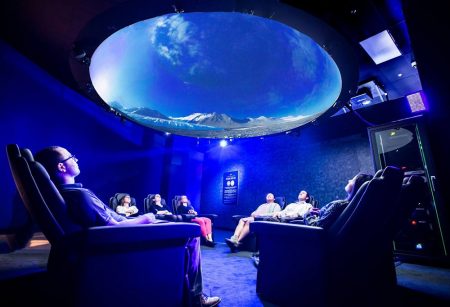 "Polar Journey offers curious guests an up-close look at a vital part of our world that they may not otherwise experience," said Adrienne Rowland, director of animal care at Shark Reef Aquarium. "Visitors are encouraged to explore the many fascinating aspects of the polar regions and we expect they will walk away with a greater appreciation for the importance of the polar regions on our planet."
Upon entering the exhibit, visitors are immersed in the polar regions through eight interactive scenes:
• Ice Caps: Guests are placed in reclining seats under a dome screen, transporting them to the Arctic and Antarctica through an engaging and informational film.
• Fractured Beauty: Visitors explore cracked ice structures in 3D without wearing glasses.
• Swarming: Guests are invited to play a quiz game at Penguin Info Terminals where penguin robots demonstrate how animals survive in the polar regions by acting as a swarm.
• Feeding Krill: Families get in touch with underwater polar creatures by engaging with an interactive wall projection. Kids can explore further by virtually feeding krill to the animals and seeing the response simulated by stunning artistic moves.
• Ice Fractures: Guests view the effects of global warming by journeying over floating sheets of ice in the deep blue sea with ice cracking beneath their feet, creating stunning formations.
• Sea Explorer: This CGI, 270-degree panoramic view, motion ride experience allows guests to travel to the Arctic while feeling as if they are immersed in a submarine.
• Polar Science: Media-based interactive games provide players information about the polar regions in an entertaining way. Visitors can listen to Arctic sounds in special cocoon chairs, take a photo with polar bears, challenge each other through memory games and more.
The exhibition is a partnership between Shark Reef Aquarium and Attraktion!, Austria's leading developer of technology-based attractions.
Polar Journey is open now through February 2018 Sunday – Thursday, 9:30 a.m. – 8 p.m.; Friday and Saturday, 9:30 a.m. – 10 p.m.
Shark Reef is open Sunday – Thursday 10 a.m. – 8 p.m.; Friday and Saturday 10 a.m. – 10 a.m. Last admission is one hour prior to close.
Related Links:
Book Now: Mandalay Bay Hotel & Casino