Cindy Williams spent years skipping down the street singing "Schleimiel! Shlimazel!" and now, due to popular demand, she is once again kicking up her heels on the Las Vegas Strip as she returns as the guest star of Menopause The Musical® at Harrah's Las Vegas March 6 through May 29. The announcement of Williams' return to the show coincides with the 11th anniversary of Menopause The Musical® in Las Vegas this month, making it the longest-running scripted musical in Las Vegas history.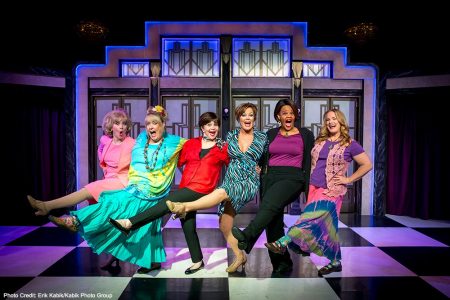 Williams first appeared as the Las Vegas show's special guest star in July 2016 and received such a positive audience response that show producers GFour Productions asked her to continue performing through December 2016. Famed for her role as Shirley Feeney in the iconic television comedy Laverne & Shirley, Williams' second Vegas run marks the fifth time she has performed in Menopause The Musical®, having previously appeared in the Tampa, Fla., Laguna Beach, Calif., and New Haven, Conn. productions. The actress plays the role of the fifth girlfriend, joining current cast members Vita Corimbi, Earth Mother; Jacquelyn Holland Wright, Soap Star; Lori Legacy, Iowa Housewife; and Lisa Mack, Professional Woman. Karen Gedissman understudies all four roles. In addition to guest starring in Menopause The Musical®, Williams recently released her critically-acclaimed book, "Shirley, I Jest!: A Storied Life," which is now being released in paperback.
"I had the time of my life performing in Menopause The Musical® last year and couldn't wait to come back as the guest star! I look forward to calling Vegas home again for the next few months, and to performing for and meeting more fans!" said Williams.
"We are so excited to have Cindy Williams back as our special guest star," added the show's producer, Kathi Glist. "I am so glad that she was able to return, as audiences loved her when she was here last year and kept on asking us to bring her back!"
Menopause The Musical® is the longest-running scripted musical in Las Vegas history and has played almost 5,000 performances in the city and is celebrating 11 years in Las Vegas. "The Hilarious Celebration of Women and The Change"® empowers audiences of all ages with its parodies of classic songs of the '60s, '70s and '80s in a show filled with memorable characters, optimism and laughter. Hot flashes, mood swings and weight gain – no subject is off limits for the show's stars, who meet in a department store while shopping for a black lace bra. The 90-minute production inspired by a hot flash and a bottle of wine celebrates sisterhood as the cast and audience bond, rejoicing that menopause is no longer "The Silent Passage." Since 2001 the show has touched over 11 million women worldwide and has recently partnered with The National Breast Cancer Coalition® to raise funds to fight breast cancer.
Menopause The Musical® has performances Monday through Saturday at 7:30 p.m., as well as an additional 4 p.m. matinee each Saturday and Monday.
Related Links: