Widely known for its popularity throughout Asia, the new Trick Eye Experience at Monte Carlo Resort and Casino encourages passersby to become part of the art with life-size interactive 3-D paintings.
The Trick Eye Experience was created by Melanie Stimmell and her team of artists at LA-based street art company, We Talk Chalk. The concept is designed to entice guests to explore the work, insert themselves into the scenario and pose for photos, bringing the vibrant paintings to life.
Located on BLVD Plaza at Monte Carlo, two one-of-a-kind, hand-painted murals invite visitors to strike a pose and snap a photo "inside" the art. The Scorpion Mural pays homage to Nevada's natural landscape and features three brown and orange scorpions living outside a terrarium. If you dare to stand on the platform, it appears as if you are inside the terrarium, accompanied by prickly cacti and a fuchsia succulent.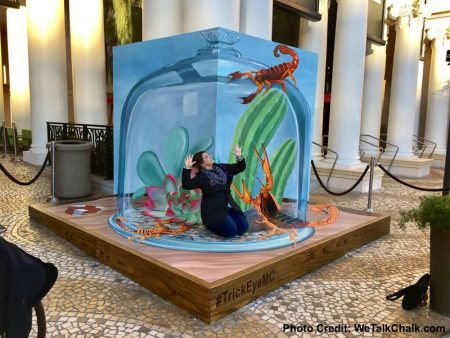 Steps away from the Sambalatte patio, a second mural caters to visitors with an overwhelming sweet tooth. The dessert-themed "trick eye" artwork features 12 vibrantly colored macaroons and a fuzzy, yellow and black striped bumble bee. Guests can join the scene and appear to be caught with not only their hand, but their entire body inside the mouth-watering cookie jar.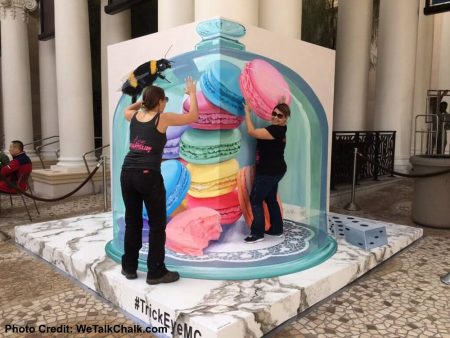 For the fearless few, a third painting can be found outside the west casino entrance of the resort, closest to T-Mobile Arena. A great white shark with razor sharp teeth waits for the opportunity to devour its visitors before they have a chance to enter the resort. Pose just right and you'll frighten family members with the illusion.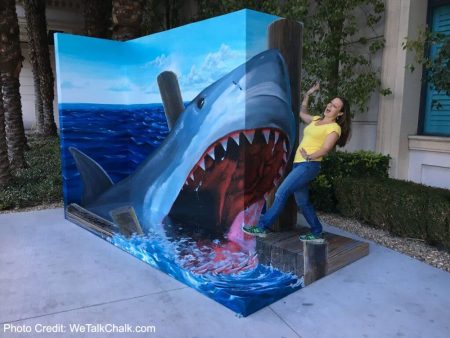 "Each piece creates the illusion of being a part of the painting and invites those walking by to engage with the murals and take photos," said Stimmell. "At first observers are unsure of what they're looking at, but as soon as someone joins the piece, each work of art comes alive."
The Trick Eye Experience at Monte Carlo will be on display until 2018. Additional murals will be added throughout 2017.
Related Links: