Celine Dion shared a momentous milestone with an enthusiastic, sold-out crowd as she took the stage of The Colosseum at Caesars Palace for the 1,000th time. The milestone performance opened with an emotional video that highlighted memorable moments over the almost 14 years that Celine has performed in The Colosseum and closed with a breathtaking finale of bronze and silver confetti and balloons raining down on the stage and crowd in celebration. All 4,298 guests that attended the special, sold-out performance received a commemorate program book and lenticular credential as a gift to memorialize the milestone.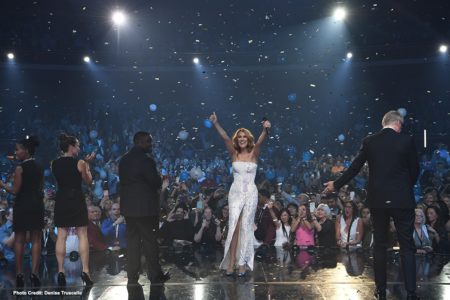 Celine Dion Tickets
Celine's first Las Vegas residency at The Colosseum at Caesars Palace, A New Day? created and directed by Franco Dragone, was a groundbreaking production that played 717 performances from March 25, 2003 through Dec. 15, 2007. After a three year break from Las Vegas, Celine made a triumphant return on March 15, 2011 with a glamorous new show directed by legendary Grammy Awards producer Ken Ehrlich aptly titled, Celine at The Colosseum at Caesars Palace.
"Back in 2003, when I began performing in this newly built theatre, little did we know we were going to reach such an incredible number of shows," said Celine. "Thank you Ren? who had this vision and shared the journey with me and thank you to the four million fans who made this possible by choosing music as their international language. And thank you Caesars Palace and AEG for dreaming with us, making all of this a reality."
"We are honored to be celebrating 1,000 shows with Celine and humbled by her passion, strength and commitment to a vision that began over 14 years ago," said John Nelson, senior vice president of AEG Live Las Vegas. "There is no one like C?line and we look forward to working with her and her incredible team on another 1,000 shows."
"Since her premiere performance in 2003, Celine Dion's residency at The Colosseum at Caesars Palace has led the transformation of Las Vegas into the home of great musical artists. She is the reigning superstar among a brilliant group of globally famous performers and sparked the groundbreaking for a term that is now commonplace in Las Vegas ? residencies," said Mark Frissora, CEO of Caesars Entertainment. "We are proud to have Celine call The Colosseum at Caesars Palace home."
Tickets for Celine at The Colosseum at Caesars Palace are on-sale now for performances Nov. 1, 2016 through Feb. 4, 2017. Due to demand, 24 more shows April 4 through June 3, 2017 will go on-sale to the public on Friday, Oct. 14 at 12 p.m. PT. All show dates are as follows:
2016
Nov: 1, 2, 4, 5, 7, 9, 11, 12, 15, 16, 18, 19, 22, 25, 26
2017
Jan.: 17, 18, 20, 21, 24, 25, 27, 28, 31
Feb.: 1, 3, 4
April: 4, 5, 7, 8, 11, 12, 14, 15, 18, 19, 21, 22
May: 16, 17, 19, 20, 23, 24, 27, 28, 30, 31
June: 2, 3
Shows are scheduled for 7:30 p.m.
Celine at The Colosseum at Caesars Palace is a glamorous show directed by legendary Grammy Awards producer Ken Ehrlich and presented by AEG Live and Caesars Entertainment. Designed exclusively for The Colosseum, the production features Celine's biggest hits mixed with timeless hits by iconic artists that celebrate all generations and genres of music. The show features a full orchestra and band and is set to a visually stunning presentation designed exclusively for the 4,300-seat state-of-the-art venue. For show information visitwww.celineinvegas.com.

One of the most immediately recognized, widely respected and successful performers in pop music history, Celine Dion has sold almost 250 million albums during her over 30-year career. She has earned five Grammy Awards, two Academy Awards, seven American Music Awards, 20 Juno Awards (Canada) and an astonishing 40 Felix Award (Quebec). In 2004, Celine received the Diamond award at the World Music Awards recognizing her status as the best-selling female artist of all time. In 2007 she was honored with the Legend Award at World Music Awards in recognition of her global success and outstanding contribution to the music industry.
Related Links: