Bellagio's Conservatory & Botanical Gardens welcomes the arrival of fall with auburn leaves, lively scarecrows, a talking tree and gigantic pumpkins. Now through November 25, the captivating display takes guests on a journey through wine country during harvest.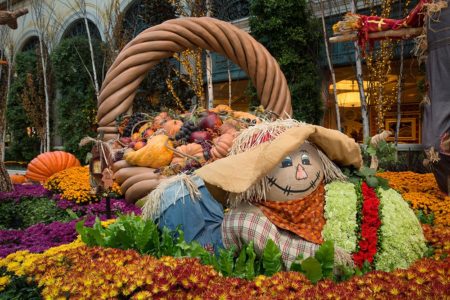 Upon entering, visitors will stroll through two 14-foot archways engulfed in golden and emerald foliage. A cobblestone pathway guides guests to a rustic retreat complete with a Vintage Chateau set amongst harvesting grapes. Dark green vines and 14 individual grape clusters gather above and around the ceiling of the 42-foot stone estate, while water cascades from a leaf fountain into the pond below.
Extravagant vintage timbers invaded by wild mushrooms, overgrown vines and grape clusters connect three of the gardens. Nearby, three playful scarecrows, a 28-foot talking tree and a hard-working father and son grizzly duo charm bystanders both day and night. Pumpkins, gourds, wine barrels and dandelions are scattered throughout each bed as onlookers wander through the display.
Bellagio's Conservatory and Botanical Gardens is open 24 hours a day, seven days a week and is complimentary to the public.
Fall Display Fast Facts:
Display dates: Now ? November 25
Total flowers on display for duration of the exhibit: 45,000
Vintage Chateau
Height: 42 feet
Length: 14 feet
Width: 14 feet
Gallons: 40
Talking Tree
Height: 28 feet
Length: 25 feet
Diameter: 6-8 feet
Archways
Height: 14 feet
Width: 4 feet
Pumpkins
1,025 Roses
125 Hypericums
800 Orange Fancy Carnations
Height: 6 feet
Diameter: 12 feet
LED Dandelions
Height: 14-18 feet
Vintage Timbers
Height: 16 feet
Basket of Pumpkins
Height: 12 feet
Length: 18 feet
Width: 12 feet
Grape Cluster
850 Carnations
Papa & Baby Bear
Body: Reindeer moss
Vest: 100 stems of preserved hydrangeas
Acorns
1,700 Carnations
Height: 5 feet
Diameter: 3-4 feet
Related Links: