Small towns transform into sophisticated, alluring and mysterious urban cities, and countryside villages into picturesque, serene, untouched landscapes inside Bellagio Gallery of Fine Art's (BGFA) newest exhibit "Town and Country: from Degas to Picasso," opening September 23. The exhibition will guide visitors through each artist's work inspired by the United States and Europe's growing urbanization during the 19th and 20th centuries.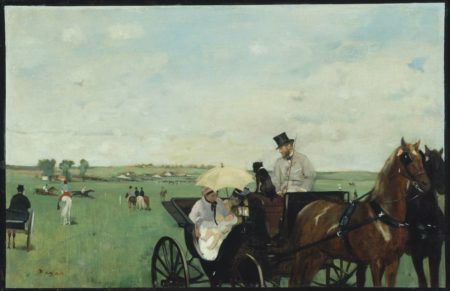 Organized in partnership with the Museum of Fine Arts, Boston, the display will feature 47 works of art ranging from paintings and prints to drawings and photographs. Featured artists will include Vincent van Gogh, Claude Monet, Pablo Picasso, Edgar Degas, Jean-Fran?ois Millet and many more.
"'Town and Country: from Degas to Picasso' will reveal each artist's interpretation of growth, expansion and development," said Tarissa Tiberti, executive director of Bellagio Gallery of Fine Art. "The artworks will provide a dazzling recount of cities and the countryside during the Industrial Revolution."
Inside the gallery, perceptions will be brought to life on canvas through six themes: Realism and the Urban Artist; Daumier and Urban Realism; The Bourgeoisie and Countryside Retreats; The City as Muse; City Life ? Seeing and Being Seen and Modernism; and Urban Disenchantment.
The pieces included in each theme illustrate the division between city and countryside due to political and social climate. During this period in history, artists adjusted their focus of urban and rural life by depicting the metropolises as busy with enterprise, ever-growing populations and adversely, the countryside as pastoral, charming and leisurely.
BGFA's current exhibition "Yousuf Karsh: Icons of the 20th Century" will close September 5 to make way for "Town and Country: from Degas to Picasso." The new exhibit will be on view September 23, 2016 through February 20, 2017.
Tickets to BGFA are $16; $14 for Nevada residents and seniors 65 and older; students, teachers and military with valid ID. Children 12 and younger are free. For groups of 10 or more, the gallery offers special pricing of $12 per person.
BGFA is open daily 10 a.m. ? 8 p.m. Last admissions are sold 30 minutes prior to closing. Guests also may enjoy complimentary daily docent tours at 2 p.m. and private docent tours at an additional cost.
Related Links: