July Special Events and Promotions
Euro 2016
PBR is your one-stop shop to catch all the action of European Football as the Euro 2016 tournament continues from France. Enjoy all-day open bar packages, or chow down on some amazing barbecue. Order PBR's family-style barbecue platter, and we'll allow it to be called "soccer."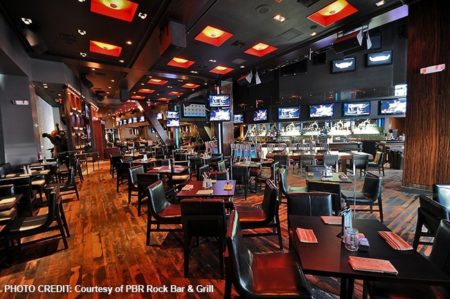 UFC 200
Saturday, July 9
PBR will be showing all the action of the highly anticipated UFC 200. The landmark fight, from the undercard matchups through to the rematch between Daniel Cormier and Jon "Bones" Jones, takes place right down the Strip. PBR will offer two drink tickets, along with a guaranteed seat, for $75 during the fight card. General admission is $50 and standing room only.
Baseball's Home Run Derby and All-Star Game
Monday, July 11 and Tuesday, July 12
During the 2016 Home Run Derby and All-Star Game, guests at PBR who show up decked out in their favorite professional baseball team's gear will get one free 16 oz. featured draft beer. Catch all the action from San Diego as the 87th All-Star Weekend gets underway, featured on some of PBR's 105 HDTVs and projection screens.
Dish of the Month
Texas Brisket Pizza?$15.95
A BBQ sauce base smothered in mozzarella and cheddar cheeses, topped with PBR's house-smoked beef brisket, onion and jalape?o.
Drink Specials
In July, guests will enjoy $1 off featured draft beers, $25 buckets of five Coors Light bottles and a $30 open bar option on Coors Light and Blue Moon drafts.
Daily Specials
2-for-1 Beer Pong
11 a.m. to 9 p.m.
Guests who buy one pitcher of Pabst Blue Ribbon (PBR) for beer pong will get a second pitcher for a game of pong on the house. Tables and ping-pong balls are provided; pitchers of PBR cost $22 each.
Drinking Games
All day, every day!
Stop in at the bar and pick your poison ? then head over to one of our many drinking games and relive the good old years! Beer pong, flip-cup, chess, checkers, battleship, Jenga ?PBR Rock Bar has it all! Guests are responsible for purchasing their own alcohol ? games are free to play with a drink of choice.
Beer Towers
All day, every day!
For just $35, guests can bring the tap to their table. A 100-ounce personal tower of featured beer makes the perfect centerpiece for any gathering.
PBR Challenge
All day, every day!
Calling all risk-takers and food competition enthusiasts – PBR Rock Bar has one of the country's best food challenges: The PBR Challenge. The food challenge features a two-pound beef burger, topped with a half pound of cheddar cheese, a half pound of hot dog and a half pound of PBR's house-made chili, all set atop a giant burger bun. The burger is topped with four fried pickles and accompanied by a pound of French fries and a 24-ounce milkshake. The meal costs $48, but if the entire meal is finished by an individual within 30 minutes, the meal is not only free but the challenger will also receive $50 in PBR Bucks, a free t-shirt.
Show Your Ticket Stub for 15 percent off
This month, when you show us any ticket stub, credential or proof of attendance to the amazing events happening in Las Vegas, you'll get 15 percent off your bill. Events that qualify include Britney Spears and Jennifer Lopez at The Axis at Planet Hollywood and Paul Zerdin at the PH Showroom at Planet Hollywood, among others.
Sunday ? Thursday Specials
Happy Hour
2 to 6 p.m. & midnight ? 2 a.m. Sunday ? Thursday
Get more bang for your buck during PBR Rock Bar's Happy Hour from Monday through Thursday. Nosh on $5 and $7 small plates, and sip on two-for-one draft beers and well cocktails. Small plate choices include favorites like the Smoked Sausage Bites ? house smoked and grilled, served with mustard BBQ sauce; Beer Cheese & Crab Dip ? pale ale and white cheddar cheese dip with lump crab and soft pretzels; or the Chicken Chili Verde ? chicken, tomatillos, green chilies and onion braised in Pabst Blue Ribbon and finished with cilantro and sour cream, served with flour tortillas.
Sundays
Saddle Up Sundays
9 p.m.
Time to saddle up, partner! Each and every Sunday Night at 9 p.m., PBR goes full country. With $2 drinks for ladies and $5 domestic drafts for all, guests can grab a cold one and get down to live country music. The night includes a bull riding competition hosted by Country Music Television's Hunter Robinson with a $200 prize.
Mondays
Live Music
1 p.m.
Live acoustic sessions
Tuesdays
Live Music
1 p.m.
Live Live acoustic sessions will take place inside Rock Bar as the summer sun heats up the patio.
Tuesday Brewsday Craft Beer Festival
9 p.m.
Each Tuesday night, PBR will throw the ultimate craft beer festival. Served up tailgate party-style, guests can enjoy two hours of unlimited beer pong for $30, with $300 in prizes going to the champs. Craft beer flights will be available for those looking to enjoy a slow and steady pace of party play.
Wednesdays
Live Music
1 p.m.
Live acoustic sessions will take place inside Rock Bar as the summer sun heats up the patio.
Rock Bar Karaoke
10 p.m.
On Wednesday nights, PBR Rock Bar guests are the stars! Grab a bite and rock the mic with PBR Rock Bar Karaoke and enjoy the scene as fellow crooners, rockers and pop stars take to the stage in outrageous karaoke action. Grab a drink, saddle up and let the karaoke fun begin! Costumes are welcome and free shots may be involved.
Thursdays
Live Music
1 p.m.
Live acoustic sessions will take place inside Rock Bar as the summer sun heats up the patio.
Ladies Night
9 p.m.
PBR Rock Bar honors the lovely ladies of Las Vegas every Thursday beginning at 9 p.m. With purchase of a $5 wristband, ladies get access to $2 wells and domestic drafts.
Fridays and Saturdays
Live Music
1 p.m.
Live acoustic sessions will take place inside Rock Bar as the summer sun heats up the patio.
Live DJs
10 p.m.
Get turnt up and start your weekend in Rock Bar on Friday and Saturday nights as live DJs hit the decks from 10 p.m. to late.
Related Links:
Book Now: Planet Hollywood Resort & Casino
PBR Rock Bar & Grill
Miracle Mile Shops