Launch an underwater voyage this summer at Bellagio's Conservatory & Botanical Gardens. Ancient ruins along with a sunken ship will welcome any who dare to examine an oceanic oasis, now through September 10.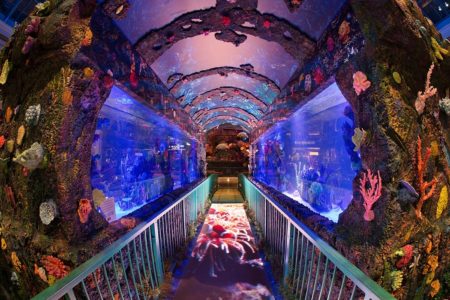 The expedition starts within the East Garden as visitors walk through a marine enclosure featuring two arching 20-feet brine aquariums created by the famous team at Acrylic Tank Manufacturing. Visitors will feel immersed within an underwater world as they travel alongside coral reefs and schools of fish, through the tunnel, and into the Conservatory.
While engulfed within the deep sea, a 35-feet sunken shipwreck, resting atop vibrant coral reef, awaits in the West Garden. Remains of the ancient ruin wall and ocean creatures exploring an underwater tropical waterfall continue each adventure seekers' journey much deeper into the ocean. Scuba divers swim among the remains, a sensational mermaid made from sand and fresh cut carnations along with a 14-feet long whale spouting water, made from 1,000 succulents, will delight passersby both night and day. Representative of the ocean's surface, dangling jellyfish and schools of fish entwined in seaweed are suspended high over the saltwater themed gardens.
Bellagio's Conservatory and Botanical Gardens is open 24 hours a day, seven days a week and is complimentary to the public.
Summer Display Fast Facts:
Display dates: Now ? September 10
Total flowers on display for duration of the exhibit: 80,000
Aquarium
Height: 42.6 feet
Length: 23.6 feet
Width: 36 feet
Gallons: 1,691
Shipwreck
Length: 35 feet
Width: 9 feet
Coral Reef
Height: 26 feet
Length: 35 feet
Width: 20 feet
Ancient Ruins
Height: 16 feet
Width: 6 feet
Whale
1,000 succulents
Height: 12 feet
Length: 14 feet
Width: 8 feet
Mermaid
350 carnations
Height: 6 feet
Seahorses
Height: 8, 10 and 12 feet
Sea Turtle
500 fresh cut flowers
Diameter: 5 feet
Clam with Pearl
Height: 6 feet
Length: 5 feet
Related Links: