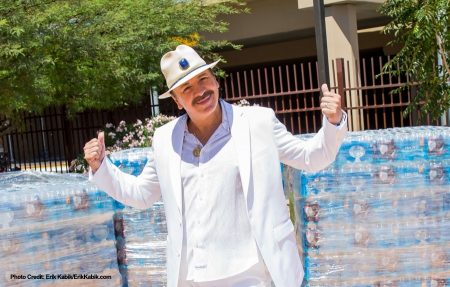 Santana Las Vegas Tickets
On Monday May 16, 2016, House of Blues headliner Carlos Santana and the team from House of Blues Las Vegas visited the Las Vegas Rescue Mission to serve the residents a soulful meal directly from the culinary team at House of Blues. Santana and the team also held a water drive and donated 8,400 bottles of water for the homeless community that Las Vegas Rescue Mission provides for each day. In addition, the group donated more than 500 refillable pouches that the homeless can use to refill with water throughout the hot Las Vegas summer. Director of Program Services, John Fogal, took Santana on a tour through the Mission?s onsite dorms where they house around 120-150 residents that are working hard to get back to normal lives by getting help with addiction, education and job placement.
Santana made the visit before getting back to the stage at House of Blues where his residency continues with shows throughout May, September and November.
Related Links:
Book Now: Mandalay Bay Hotel & Casino
Las Vegas Rescue Mission