Billboard and dick clark productions announced on May 4, 2016 that renowned musical performer Celine Dion will be honored with the esteemed ICON Award on the ?2016 Billboard Music Awards.? Dion will also perform a special rendition of Queen?s ?The Show Must Go On? after she accepts one of the most prestigious Billboard awards an artist can receive. The ICON Award is a lifetime achievement award that honors the cultural impact of an artist whose extraordinary talent as a creator and entertainer has stood the test of time. Past recipients include Neil Diamond (2011), Stevie Wonder (2012), Prince (2013) and Jennifer Lopez (2014).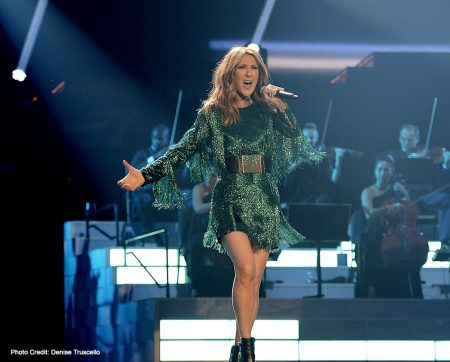 2016 Billboard Music Awards Tickets
?Celine Dion has a huge repertoire of monster hits and she personally chose to perform ?The Show Must Go On? as her ICON performance on the Billboard Music Awards,? stated ?2016 Billboard Music Awards? executive producer Mark Bracco. ?I think at this moment in her life, the song has many meanings and it?s an amazing choice.?
One of the most recognized, widely respected and successful performers in pop music history, Celine Dion has sold almost 250 million albums during her over 30-year career. She has earned five Grammy Awards, six Billboard Music Awards, two Academy Awards, six American Music Awards, 20 Juno Awards (Canada) and an astonishing 40 Felix Awards (Quebec). She?s placed 17 albums on the Billboard 200 chart, including a dozen top 10 efforts ? four of which reached No. 1. Her most recent studio album, 2013?s Loved Me Back To Life, continued her hot streak in the top 10, as it debuted at No. 2 on the chart. Additionally, with 11 No. 1s on the Adult Contemporary chart, she holds the record for the most chart-toppers by a woman in the 55-year history of the list. In 2004, Celine received the Diamond award at the World Music Awards recognizing her status as the best-selling female artist of all time. In 2007 she was honored with the Legend Award at World Music Awards in recognition of her global success and outstanding contribution to the music industry. Celine continues to perform her critically-acclaimed Las Vegas residency, ?Celine? at The Colosseum at Caesars Palace and will hit an epic 1,000 performances in the venue this fall.
The ?2016 Billboard Music Awards? will broadcast LIVE from T-Mobile Arena in Las Vegas on Sunday, May 22 at 8:00 p.m. ET / 5:00 p.m. PT on ABC. For the first time in Billboard Music Awards history, viewers on the West Coast will watch the show live along with fellow fans on the East Coast. This year?s show, which will be hosted by hip-hop artist Ludacris and international music sensation Ciara, will showcase big performances, unexpected collaborations and much-discussed pop culture moments.
Billboard Music Awards finalists are based on key fan interactions with music, including album and digital songs sales, radio airplay, streaming, touring and social interactions on Facebook, Twitter, Instagram, YouTube, Spotify and other popular online destinations for music. These measurements are tracked year-round by Billboard and its data partners, including Nielsen Music and Next Big Sound. The awards are based on the reporting period of tracking dates March 23, 2015 through March 17, 2016 and Billboard chart dates April 11, 2015 through April 2, 2016. Since 1940, the Billboard charts have been the go-to guide for ranking the popularity of songs and albums, and are the ultimate measure of a musician?s success.
The ?2016 Billboard Music Awards? sponsors and partners include Kia Motors, Music Choice and WestwoodOne.
Related Links: