Blooming cherry blossoms, peaceful waterfalls and traditional Japanese architecture welcome the spring season to Bellagio?s Conservatory & Botanical Gardens, now through May 14.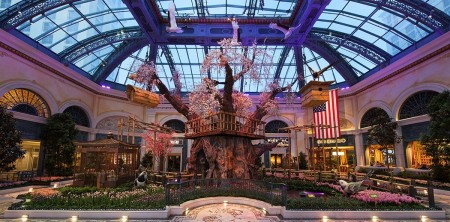 Upon entering the Japanese-themed spring display, visitors will embark on an outing of the senses starting with a symbolic tea house nestled among raked golden sand and cherry blossom trees within the East Garden. The 12-foot-tall house, produced from bamboo and natural material and ornamented with mineral copper accents, honors Japan?s cultural tea tradition, dating back to the ninth century. Within the tea house, an enchanting hand-made wreath named Senbazuro Nest, filled with 1,000 Origami cranes, will delight your eyes and mind. Each delicate and colorful crane symbolizes peace, a healthy body and durability. Delicately hand-colored with cherry blossoms and cranes, 14 colorful parasols float over the garden, visible from every standpoint.
A couple of steps away in the West Garden, the path continues with two bamboo structured Tsukubai waterfalls that outline the road via a 30-foot dogwood tree engrossed in vibrant fuchsia leaves. The tranquil waterfalls flow from 16 ft above right into a peaceful pond that plays home to 75 Koi fish. Over the pathway, in the middle of the tree, sits decking made from redwood and bamboo-inspired railings that cover the dwelling. A set of hand-made birds sit on the railings while some sit atop two hanging bird houses. Within the fresh tulips and chrysanthemums, live canaries find their home in 2 delicately designed bird cages situated on both sides of the garden.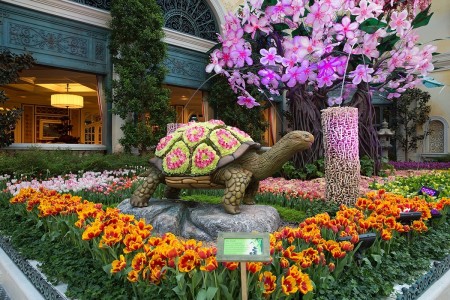 Flowers blossom throughout the Conservatory, especially in the North Garden where visitors will encounter an 18-foot-tall cherry blossom tree stylishly embellished with 300 acrylic blossoms and leaves. Just like nature, no two blossoms are identical. Nearby, stretching seven feet long is really a topiary turtle made from 850 fresh cut roses, resting beside five rustic twig fountains covered in moss. Supplying a hot glow to the garden after sunset are three hand-painted Japanese lamps that hang over the cherry blossom tree.
Visitors will gaze upon additional lamps inside a hanging garden of cherry blossom vines within the South Garden. Underneath the unique garden is really a sacred scene with a 26-foot traditional Japanese Temple. The golden temple, filled with wood frames covered in canvas cloth, sits on the shore of soothing waters replicative of the original Golden Pavilion in Kyoto, Japan. Over the shore sits a regal six-feet topiary crane, produced from 2,600 carnations and ostrich feathers.
Bellagio?s Conservatory and Botanical Gardens is complimentary to the public and open 24 hours a day, seven days a week.
Japanese Spring Display Fast Facts:
Display dates: Now ? May 14
Total flowers on display for the duration of the exhibit: 82,830
Dogwood Tree
Height: 30 feet
Diameter: 12 feet
Cherry Blossom Tree
Height: 18 feet
Width: 20 feet
Length: 10 feet
Blossoms: 300
Japanese Temple
Height: 26 feet
Tea House
Height: 12 feet
Width: 10 feet
Tsukubai Fountain
Height: 16 feet
Depth: 12 feet
Width: 10 feet
Crane
2,600 carnations
Height: 6 feet
Wing span: 6 feet
Turtle
Flowers: 850 roses
Height: 4 feet
Length: 7 feet
Width: 5 feet
Related Links: