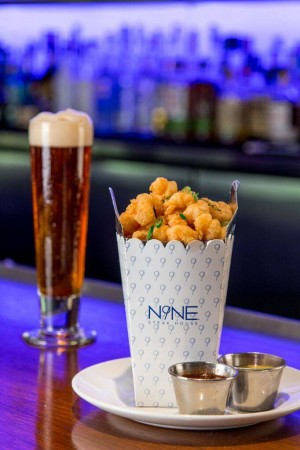 Beginning March 1, certainly one of Las Vegas? most legendary steakhouses, N9NE Steakhouse at Palms Casino Resort, will offer guests a completely new happy hour menu, available solely within the bar and lounge from 5:30 until 7:30 p.m. Monday through Friday. Visitors can also enjoy small plates of popular N9NE appetizers including lobster potstickers, sashimi, calamari and much more. Happy hour isn?t complete without cocktails and visitors are now able to indulge in a number of craft beers, whiskey flights and niche drinks such as The Cartel, La Chicana and also the Ciroctail.
?N9NE?s bar and lounge has always been a popular destination for guests looking to grab a casual bite and drink during everybody?s favorite time of day,? said N9NE?s Executive Chef, Barry S. Dakake. ?Our new happy hour caters to early evening diners who want to enjoy a handful of N9NE?s most renowned appetizers and cocktails with special pricing.?
New happy hour items include:
Bar Bites:
? Buffalo chicken wontons stuffed generously with hot sauce and blue cheese for $8
? Calamari zested with cherry peppers and spicy marinara sauce for $9
? Lobster potstickers with bok choy and pepper yuzu sauce for $9
? Rock shrimp accompanied with spicy Sriracha sauce and lemon aioli for $9
? Short rib ravioli with Chanterelle mushroom and Pancetta cream for $11
? Shrimp Piccata derived from Giant White prawns delicately stirred in white wine dressing for $14
? Foie Gras with Cr?me Brulee French toast topped with roasted apples for $17
Libations:
? Deschutes Fresh Squeezed IPA for $6
? Hanger 24 California Spring Ale for $6
? Ciroctail with Ciroc apple, cranberry and ginger beer for $9
? La Chicana with Patron silver, blackberries and sage for $9
? The Cartel with Cruzan aged rum, lime, mint and Coke for $9
? Ardbeg 10 Year Scotch, Islay for $10
? Glenmorangie Flight, three 3/4 oz. pours for $19
N9NE Steakhouse is open Sunday through Thursday from 5:30 until 10 p.m. and Friday and Saturday from 5:30 until 11 p.m. Happy hour is Monday through Friday from 5:30 until 7:30 p.m. in the bar and lounge.
Related Links: