Beginning at the begining of the month of January, site visitors to Vegas can also enjoy a bird?s eye view as well as a cold brew in the new Beer Park by Budweiser at Paris Vegas, its first roof bar and grill.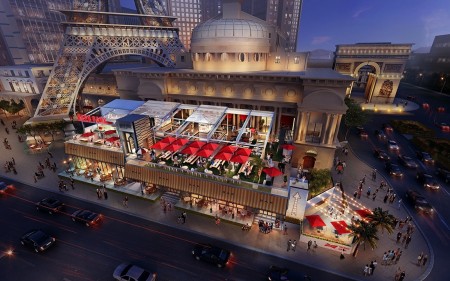 Situated on the 10,000-square-feet deck looking over the world famous Vegas Strip, Beer Park will feature an outside grill, have a picnic tables, and more than 100 draft, can and bottle beer choices, including 36 ales on tap. The bar menu will also include craft beer cocktails, signature cocktails and wines on tap, along with other wines and niche drinks, including a range of Bloody Marys. The climate is going to be well suited for watching football games along with other sporting occasions, with towers on every side from the bar housing a large number of high-definition televisions, that offer premium sights of the overall game from the chair.
?Beer Park is inspired by some of the great American pastimes that bring people together; things like going to the ball park for a baseball game, a tailgate party or a picnic at a neighborhood park,? says Matthew Silverman, corporate executive chef of Beer Park. ?It?s a treat for the senses, being outdoors and smelling food cooking on the grill, drinking a cold beer, and watching the game while enjoying the view of the Strip from all around you.?
?Anheuser-Busch and Budweiser are excited to launch Beer Park as a first-of-its-kind destination on the Vegas Strip,? said Josh Halpern, Vice President, On-Premise Sales at Anheuser-Busch. ?Details like the Budweiser Beechwood Grill and the beer-food pairings make this place a dream for beer drinkers and food lovers alike, and we?ve made sure that the personalities of our brands will enhance the consumer experience in different ways.?
All-American cuisine is going to be offered in the menu in addition to roaming buggies serving concession-style choices. Grill choices would be the niche, with meat along with other foods prepared on the custom-made Budweiser Beechwood Grill, which imparts the taste of the beer into everything from hamburgers, brisket, ribs or sausages.
All food choices will lead to Beer Park?s namesake offering, having a suggested pairing for each item, in addition to products that'll be prepared using various kinds of beer for example bratwurst bathed in Goose Island IPA and pickles prepared using Stella Artois Cidre. Beer Park will take stadium sweets over the top with products like gourmet funnel cakes along with a signature ice cream trolley.
Chicago-based design firm, Gensler, has produced an environment that mixes the design of a vintage baseball stadium and also the communal charm of the city park using the spirit of Budweiser; a nostalgic combination that brings up Americana charm. The appearance starts around the lower level, where takeaway choices like souvenir cups full of takeaway daiquiris and beer is going to be available to buy. A spiral staircase leads to the top level, revealing a wide open-air ?park,? made to bring people together through various seating encounters, including communal have a picnic tables that encourage mingling along with a grassy lawn to experience classic bar games like pool, beanbag toss and darts.
High-top tables line the rail looking over the Vegas Strip, along with a private VIP area is fantastic for corporate excursions, bachelor parties along with other large parties. An oblong bar may be the focal point from the room, seating 80 visitors. The dining area seats roughly 200 visitors, as well as in total, the area benefits as much as 500 visitors.
Modern touches infiltrate the classic style of wood with metal accents, rich in-tech features for example taps that pour ales at 31 levels, the perfect temperature for Budweiser, in addition to cold ?plates? each and every chair from the bar to help keep ales awesome. Easy to customize audio will come in parts from the venue, such as the VIP room. A DJ booth is situated close to the gaming and VIP area, in which a DJ will spin weekends along with other nights, too for special occasions. A retracting awning offers shade during the day, along with a look at the heavens during the night. Misters and heating units ensure an environment-controlled atmosphere any season.
Beer Park will be open daily from lunch through late night, transitioning into a bar setting for guests 21 and over at 10 p.m., with early morning openings along with breakfast for football and other morning sporting events. Beer Park is also available for private events and full buyouts, for anything from rehearsal dinners to corporate parties.
Related Links: