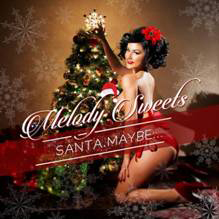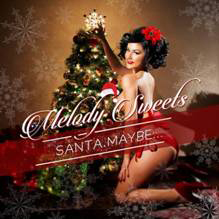 ABSINTHE?s dazzling ?Green Fairy? Melody Sweets brings the naughty this holiday season with the debut of her sexy holiday song ?Santa Maybe?? available now on MelodySweets.com. A unique release party follows on Saturday, December 19 at FIZZ at Caesars Palace in celebration of Sweets? birthday and also the debut of her sexy new holiday tune. For additional info on places to buy ?Santa Maybe?? check out MelodySweets.com.
The hooky, horn-driven number brings an attractive twist to a holiday classic leaving the audience wanting to unwrap the gifts under Sweets? Christmas tree. Produced, arranged and designed by Eric Plante of Cirque du Soleil?s ?O? and mixed by Grammy nominated producer Tim O?Heir of Hedwig and the Angry Inch, the initial single ?Santa Maybe?? is supported by an exciting-star band featuring Plante, David Perrico of Pop Strings, Stephen Lee of Donny & Marie and Mike "Beans" Begnino of MJ Live. ?Santa Maybe?? will certainly delight both naughty and nice on Santa?s list this season, responding to the issue ?who says Christmas can?t be sexy??
Buddies and fans are asked to join Sweets for a special song release party on Saturday, December 19 at 11:30 p.m. at FIZZ at Caesars Palace. Visitors will have the chance to double the amount sultry fun by joining the holiday festivities as Sweets celebrates her first recording since her 2013 debut album Burlesque in the Black in addition to her birthday that evening. Revelers are going to be treated to a live show by Sweets, burlesque by Miss Exotic World Michelle L?amour and lots of eye candy through the evening. You never know, Santa himself may only be there!
Melody Sweets has already had music featured on MTV, VH1, A&E and National Geographic on hit shows for example Celebrity Fit Club and PUNK?D. A lover of the arts, Melody Sweets has already established the privilege of performing for and working together with acclaimed artists including STING, Bj?rk, Moby, Alice Cooper, The Bravery, Marc Jacobs, Fergie from the Black Eyed Peas, Adriana Lima and Harvey Keitel. Sweets' debut album Burlesque in the Black, launched in 2013, features popular hits carried out nightly in ABSINTHE including ?Slice of Heaven? and ?Taboo? in addition to an assortment of other tunes composed solely for Sweets? burlesque journey around the world.
Related Links:

Absinthe Las Vegas