Tis? the season to deck the halls inside Bellagio?s Conservatory and Botanical Gardens. Sparkling snowflakes, a family of arctic creatures and festive ornaments will charm visitors inside a winter wonderland, now through January 3, 2016.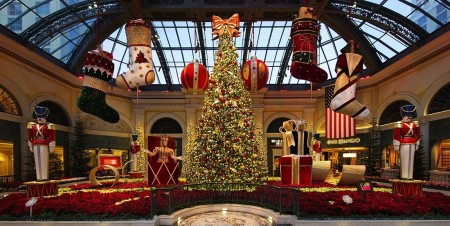 Upon entering the East Garden visitors will be in ?awe? of the 14-feet-tall snow tunnel presented with vibrant red-colored Poinsettias and white Silver Tip Fir trees. Backlit silhouettes and delicate snowflakes will encourage visitors to explore the holidays as they walk-through the ornately designed tunnel.
Situated conspicuously within the center bed, the display?s focus is really a 42-feet White Fir holiday tree, embellished with 7,000 twinkling white lights and 2,500 colorful ornaments. Standing guard at every corner of the garden are four animated toy soldiers robotically moving in symphony. A new comer to the Conservatory, but a standard feature of the season, four 10-foot stockingss full of wrapped mementos hang from the ceiling, while a 12-foot Jack-in-the-box, encircled by gifts and golden ribbon, sways backwards and forwards.
The Northern Garden will transport visitors towards the arctic having a mother polar bear made from 12,000 whitened carnations and two twin cubs that play one of the icebergs. Joining the polar bears is definitely an inquisitive group of penguins poking from their igloos. An active camera mounted to a mechanical toy train travels through the bed taking special moments shared between family and buddies, that are shown on a nearby monitor. Suspended high over the Conservatory and encircled by intricate snowflakes, an illuminated moon keeps keep an eye on the polar bears and penguins day in and day trip.
Within the South Bed, site visitors will discover two 12-foot snow globes, each featuring a vintage winter scene. In a single globe, two ice skaters glide across a frozen pond with simply the light of the lamppost and in another, carolers rejoice and sing around a gleaming holiday tree. To accomplish the classic holiday theme, a lightly rocking wooden horse rests in the center from the garden among two snow clustered trees and Poinsettias.
Bellagio?s Conservatory and Botanical Gardens is complimentary to the public and open 24 hours a day, seven days a week.
Holiday Display Fast Facts:
Display dates: Now ? January 3
Total flowers on display for the duration of the exhibit: 34,000
? 28,000 Poinsettias
? 2,000 Azaleas
? 2,000 Cyclamen
? 2,000 Ottowa mums
Total plants and shrubs on display for the duration of the exhibit: 750
Total trees on display: 25
Holiday Tree
Height: 42 feet
Diameter: 18 feet
Weight: 6,800 pounds
Number of lights: 7,000
Number of ornaments: 2,500
Mother Polar Bear
12,000 carnations
Polar Bear Cubs
5,000 carnations each
Adult Penguins
Height: 46 inches
Baby Penguins
Height: 22 inches
Snow Globes
Height: 12 feet
Diameter: 8 feet
Snow Tunnel
Height: 14 feet
Width: 12 feet
Stockings
Height: 10 feet
Width: 5 feet
Depth: 3 feet
Illuminated Moon
Height: 10 feet
Width: 5 feet
Toy Soldiers
Height: 14 feet
Jack-in-the-Box
Height: 12 feet
Width: 6 feet
Snowflakes
Height: 10, 8 and 6 feet
Ornaments
Height: 10 feet